Multi-carrier shipping software, or TMS, is powerful–giving a vital competitive edge that lets you shop rates faster, hold carriers accountable, and automate like never before!
If you're evaluating your current system or looking to purchase, be aware: not all shipping software is equal. However, most will help you reduce freight spend and give you better oversight on your supply chain. And robust shipping software is not as expensive as it used to be. Companies that ship even a small amount of regular shipments a month save with the right software.
So what are the best-in-class capabilities of multi-carrier shipping software?
1) Multi-Carrier & Warehouse System Integrations
You want to look for a smooth integration process, with as many of the below capabilities as possible!
One platform to manage parcel, LTL, FTL, intermodal, and ocean shipments–to include carrier email integration
Portals for low tech/non-integrable carriers to login and upload rates, invoices, and provide shipment tracking—This allows you to include mom & pop and rural carriers
FAK management for quoting and shipping between carriers
ERP, WMS, Inventory system, CRM, and order system integrations
Import functionality on your order numbers, PO numbers, product details, and custom user-defined data
Export functionality on tracking, freight charges, shipping and carrier details, and custom data
Manage equipment hire (drayage, forklift, site tear down/set up, etc.)
2) Freight Rate Shopping
The capability to rate shop across marketplace rates, your current contracted rates, TMS Partner Rates, and spot quoting quickly and easily is pivotal. Your shipping software should include:
Expedia-like, side-by-side rate shopping across hundreds of carriers
Spot quote capability
TMS Partner Rates
Consolidated batch shipping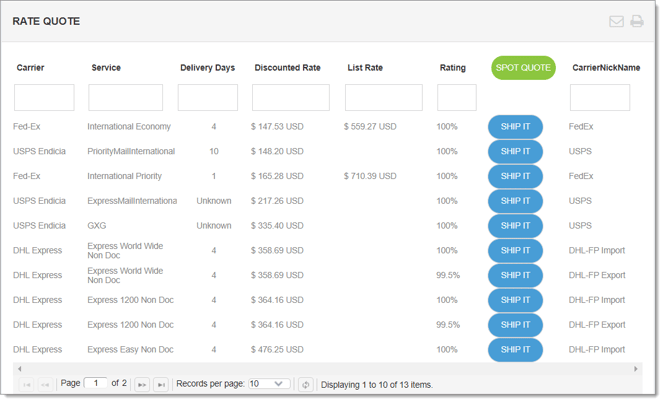 Expedia-like Carrier Rate Shopping


3) Real-Time Tracking
Your software isn't useful in managing orders and customer expectations if you do not know where your shipments are! Your shipping software should allow you to:
Produce in-transit reports on inbound, outbound, and 3PL shipments
Alert you to shipment issues
Allow you to sift through thousands of shipments quickly
Text carriers and drivers
Monitor multileg shipments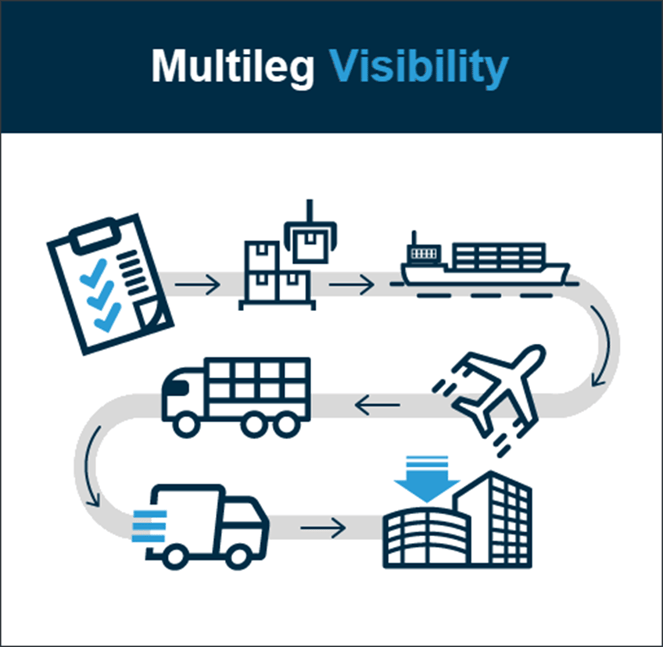 4) Automation
Digitizing supply chains to automate processes reduces human error, improves customer service, and requires less staff to manage operations–all of which positively impact your bottom line. Your shipping software should:
Automate communications to customers as tracking data updates
Automate invoice reporting for auditing purposes
Streamline your sales process from ordering to fulfillment
Automate BOLs, packing slips, customs declarations, and other paperwork from order data
Allow mass uploads of container IDs with gross weight, net weight, and seal numbers on ocean shipments
Allow for invoice submissions via a carrier portal
Shipping Software ROI Calculator
5) Analysis Tools
In our experience, auditing and analyzing your freight spend will save you a minimum of 15%. Consistently carrying out analysis also allows you to see where you need to make process improvements, arms you for contract negotiations, and lets you report effectively to upper management. Your shipping software will need to include:
Tools to isolate carrier invoice discrepancies
Carrier performance reporting
Insightful reports for strategic bargaining power in contract negotiations
Grouping tools that allow analysis of individual project spend
Individual employee analysis for KPIs and benchmarking
Solid shipping software gives you greater oversight with more control over your inventory, orders, customer service, and deliveries. It gives you superior evaluation of your processes, contract performance, and team's execution.
For more tips on selecting or evaluating your shipping software, check out our shipping software buyer's guide!