4 min read
How Manufacturers And Ecommerce Can Drive Growth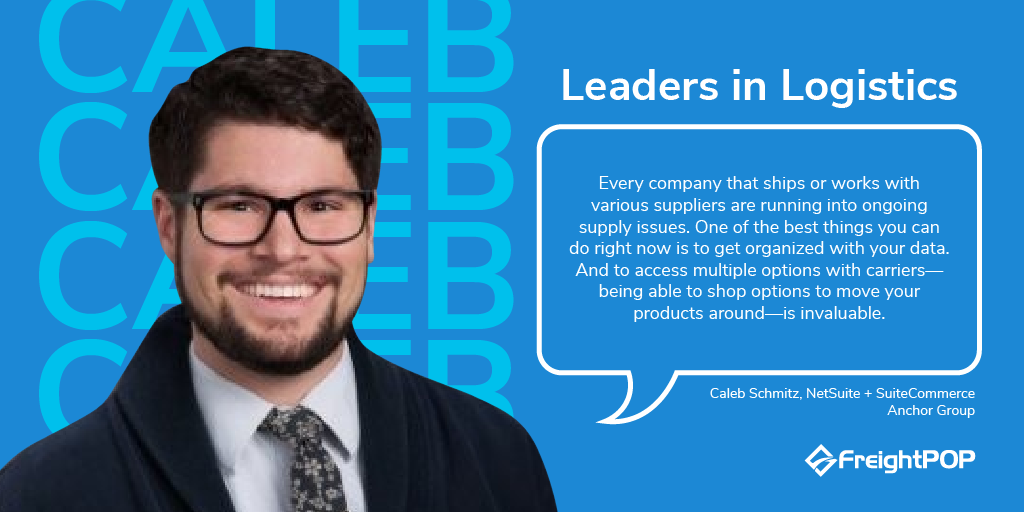 In this week's Leaders in Logistics feature, we talk to a NetSuite expert who shares insights on cloud ERP integrations and the different needs and challenges of clients across industries.
Caleb Schmitz, Director of Sales and Marketing with Anchor Group's NetSuite Consultants and Developers team, recently sat down with FreightPOP to discuss his background in logistics, supply chain challenges, and why it makes sense to integrate FreightPOP's transportation management system with cloud ERP software.
FreightPOP: CAN YOU SHARE YOUR INDUSTRY EXPERIENCE WITH MANUFACTURING AND ECOMMERCE?


Caleb: Absolutely. My educational background is in mechanical engineering. One of my first professional roles was working as a design engineer. In those early days, I quickly found myself tasked with implementing an enterprise resource planning (ERP) solution for the 7 billion-dollar manufacturing company I was working with.
Our main focus was manufacturing tank trailers for the transportation industry. By the time we completed the ERP implementation, I had transitioned to operations as a production supervisor. I was responsible for the production area that produced highly customized tank trailers for special business applications. These customized trailers were often used to carry chemicals and other sensitive materials.
Along the way, I realized I really enjoyed the ERP implementation project, so I began to shift my focus away from operations. Soon I joined my brother at Anchor Group where we offered NetSuite consultation services. At first, I started with some development work but quickly became initiated into SuiteCommerce and the entire ecommerce space.
So, within the first six months of my first job, I was involved with ERP, where I really found my calling. Since then, our company has grown significantly and served hundreds of clients across the US, and I've developed expertise in many different industry verticals involved with logistics, wholesale distribution, manufacturing, retail, software services, and ecommerce.

Different Clients, Different Needs


Caleb: We have realized over the years there are different challenges and opportunities involved with serving clients in various industries. In the software space, for instance, shipping requirements are not a significant issue. In the wholesale distribution and retail manufacturing space, many different shipping requirements are essential for successful international business operations.
I personally like the everyday challenges of consulting and helping clients develop NetSuite ecosystems for their businesses. The work is very fast-paced and requires a lot of logic and troubleshooting. It really taps into my engineering background, allowing me to problem solve.
I find it very fulfilling to help my enterprise clients find creative ways to use native functionality or custom configurations to better integrate their ERP solutions, daily operations, and evolving shipping requirements to address their specific business use cases.

FreightPOP: WHAT DO BUSINESS USING SUITECOMMERCE NEED TO UNDERSTAND TO DRIVE GROWTH?


Caleb: NetSuite provides native integration for shipping with USPS, FedEx, and UPS, and the platform is more geared towards parcel shipments. For companies that need LTL and freight shipping utility beyond that native integration, companies like FreightPOP are a godsend. Integrating FreightPOP with NetSuite provides increased functionality and better ways to shop shipping rates across multiple carriers. Then, companies can compare more prices than just those from the three primary carriers.
This allows businesses like ecommerce to increase overall margins on orders, depending on which one is going to provide the best rate. This is a more responsive and dynamic solution that provides more agility and resilience for enterprise customers.


International Shipping


Caleb: FreightPOP, in particular, also helps improve another critical area: international shipping. FreightPOP is a one-stop shop that offers everything competitive firms need to ship parcel, freight, and LTL across borders in a streamlined and efficient way. By integrating FreightPOP and NetSuite, you can access vital logistics data driving your company's success from a single platform.

FreightPOP: WHAT TRENDS ARE YOU SEEING AS WE HEAD INTO THE BUSY HOLIDAY SEASON AND LOOK TOWARDS 2022?


Caleb: Every company that ships or works with various suppliers are running into ongoing supply issues. One of the best things you can do right now is to get organized with your data. And to access multiple options with carriers—being able to shop options to move your products around—is invaluable.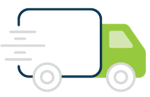 NetSuite And Transportation Management System Integration

The key to managing capacity issues and making it through backlogs and insane carrier and freight prices is to digitize and integrate your supply chain. We covered these issues recently in a powerful webinar that you can listen to here.
Our webinar goes through the benefits of combining NetSuite's ERP with a leading TMS system like FreightPOP's, which include:
Avoiding risk and managing capacity issues

Finding alternative LTL, truckload, and parcel carriers

directly from NetSuite orders

Isolating more options and the best rates on all inbound and outbound shipments

Catching and correcting invoice mistakes

before they are sent through NetSuite

And much more!
Download the free recording now to learn more!