The pandemic is forcing many shippers to implement tools to improve buying and selling predictability. Digitizing supply chains, a trendy term before COVID, is now more relevant than ever.
We consulted three supply chain experts to get their perspectives on digitizing supply chains and how it helps shippers improve visibility, save on costly errors, and enable process automation.
Supply Chain Visibility
Mark Dohnalek, President & CEO of global manufacturing company Pivot International, told us:
"Supply chain leaders must prioritize and invest in digitization to establish greater agility and scalability in logistics and overall business operations. Digitization is key to achieving supply chain transparency. It affords high degrees of visibility into both direct and indirect suppliers that are critical for strategic and contingency planning.
Ultimately, network-transparency through digitization makes it possible to effectively identify, analyze, map, manage, and monitor risk. This, in turn, enables companies to successfully respond to emerging threats and capitalize on market opportunities."
Supply chain oversight puts shippers in a proactive position. You can achieve this by integrating PO systems, ERP and WMS programs, carrier websites, and other elements through an integrated shipping software, or Transportation Management System (TMS).

Digitizing your supply chain improves visibility and allows you to answer common questions:
Real-time Inventory - what do you have?

Customer orders and returns - what's being returned and why?

Inbound and outbound tracking - where are raw materials, what's a customer's status?

Shipping data and spend - how much are we paying?

Individual shipping performance - who's doing a good job?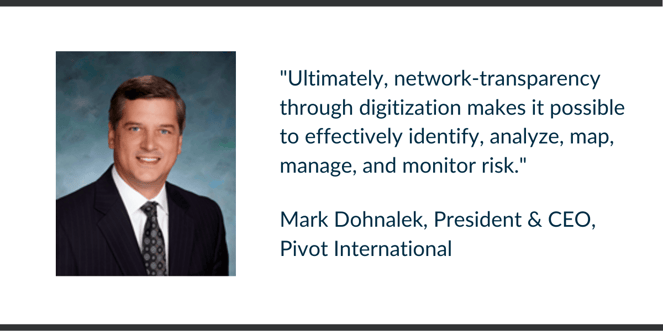 DOWNLOAD THE GUIDE: Digitizing Logistics Supply Chains

Save On Costly Shipping Errors
Value Transformation's Project Manager, Jon M Quigley, has worked in product development through to manufacturing for nearly 30 years. He shared a recent experience with us where a company's failure to digitize its supply chain caused a costly error and limited their ability to rectify the situation.
Jon told us this company shipped product parts prematurely because their process led to a mistake indicating the entire approvals process had been completed. Jon explained that:

"Compounding this, the supplier closed one warehouse and then moved the parts to another warehouse. The parts were 'lost', and we had to find people who had handled the parts to ascertain the specific location. To find and recover these parts took hours of work at a variety of levels. Had this been more automated, perhaps using RFID's, finding the product or tracing the parts as they move through the pipeline would be much quicker to understand."
Manual entries are prone to human error. A single mistake can cause significant problems for a company, such as shipment delays, lost items, damaged customer relationships, and overspending.
Digitizing your supply chain improves accuracy and allows businesses to troubleshoot issues more readily.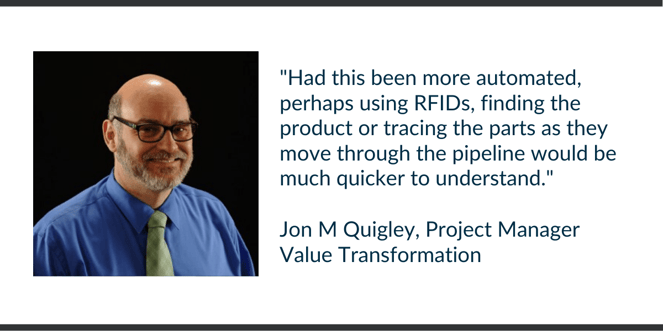 A Guide to Digitizing Logistical Supply Chains
Shipping Automation
Jake Rheude, Marketing VP of Red Stag Fulfillment, told us that using manual input processes, whether they're carbon copy invoices for drayage services or even using a Microsoft Excel spreadsheet to track orders, is a liability in this day and age. He described the situation further saying:
"When you're shipping at scale, the more you are able to automate processes, the faster and more efficient your operation becomes. Almost everything in a warehouse can and should be digitized to reduce the possibility of error.
The other reason digitization is important is because it can be automated. Our internal inventory management system is completely digitized and mostly automated, with some human input when it comes to processes such as scanning in SKU barcodes. We're able to hit much higher output thanks to automation and digitization than if we were still using manual forms. Our order accuracy rate is about 99.98%, which is inconceivable at scale if you're using manual processes."
We have found that typically, automation saves businesses who ship up to 20% of their shipping spend. This is achieved through the need for less staff, improved accuracy, and the integration of siloed data within shipping supply chains.

Automation streamlines:
Carrier rate shopping

Tracking

Customer communications

Invoice auditing

Valuable reporting




To learn more about digitizing your supply chain, see our Digitizing Logistical Supply Chains guide. This guide outlines the benefits of digitizing your warehouse, ordering, tracking, and analysis processes. Learn how to compete better in today's fast delivery world!