As COVID continues to disrupt supply chains and consumers rely heavily on online purchasing, shippers need to prepare for an influx of holiday returns.
Things are hectic every holiday shipping season, but this year holds many uncertainties. What is going to happen to carrier rates? How differently will consumers buy this year? Will cargo continue to flow at its current pace?
A Guide to Digitizing Logistical Supply Chains
Review your holiday return processes
It appears the only certainty to plan for is that more consumers will be shopping online due to ongoing safety concerns. What that means for shippers is there will be far more returns than in past peak seasons.
Red Stag Fulfillment's Jake Rheude says the number one issue shippers need to prepare for is handling returns. He says:
Online sales are typically returned at twice the rate of in-store purchases. Compounding this is the tendency of returns to increase by up to 50% more than usual in the aftermath of the holiday season. As shippers approach the holidays, allocating personnel to help process the surge in returned products as well as reviewing procedures to ensure a minimum amount of friction are two ways that shipping and logistics companies can prepare themselves.
For example, many fulfillment warehouses tend to bring on seasonal hires to increase labor capacity as the extra returns hit. It can also be useful to free up extra space in the receiving section of warehouses to process returns -- it's different handling a returned package than a pallet of newly delivered product that needs to be inventoried, and the layout will differ accordingly.
So on top of whatever planning you are doing to get your inventory, warehouse, and people ready to go for the holiday peak season, you'll want to prepare for the aftermath so you can process returns smoothly and retain goodwill with customers.


Restructuring resources before the holidays
Now is the time to consider how to streamline your holiday volumes. Our suggestion is to minimize the time it takes for your staff to organize freight and parcel movements. You can do this through dynamic shipping software that is now available at all business scales.
Using the right software can dramatically cut down on the amount of shipping staff you need. A great example of this we like to share is with one of our online retailer customers who went from 8 shipping staff handling order taking, processing, shipping, etc. down to 3 staff members.
The retailer gained 200 more man hours each week to use elsewhere in the business by using our shipping software (TMS). A reduction like this before the holidays can save you on hiring seasonal staff!
Customers reduce processing times because we provide them with:
Easy rate shopping across hundreds of carrier websites all from a single-window view
Easy system integrations - 300+ one-click integrations linking your logistics, 3PLs, and brokers to the rest of your business
Automated shipping paperwork and customer communications
Pick & pack efficiency tools
Text communications with drivers and continuous tracking updates
Portals that allow digital invoice submissions–even to rural or small carriers that typically do not have such access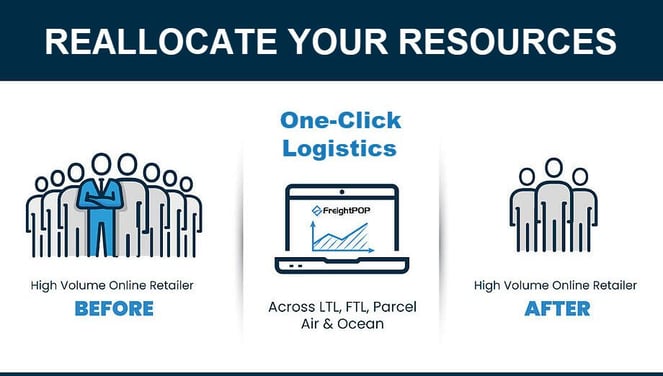 You are encouraged to reach out to our sales team and request a free demo of what our TMS can do.
Get more shipping tips in our Parcel & Freight bundle that cover your entire supply chain, from inbounds, orders, and fulfillment. Learn how to aggressively rate shop, digitize supply chains, audit invoice discrepancies, report on carrier performance, and more.