5 min read
Do You Have a Good Transportation Management System?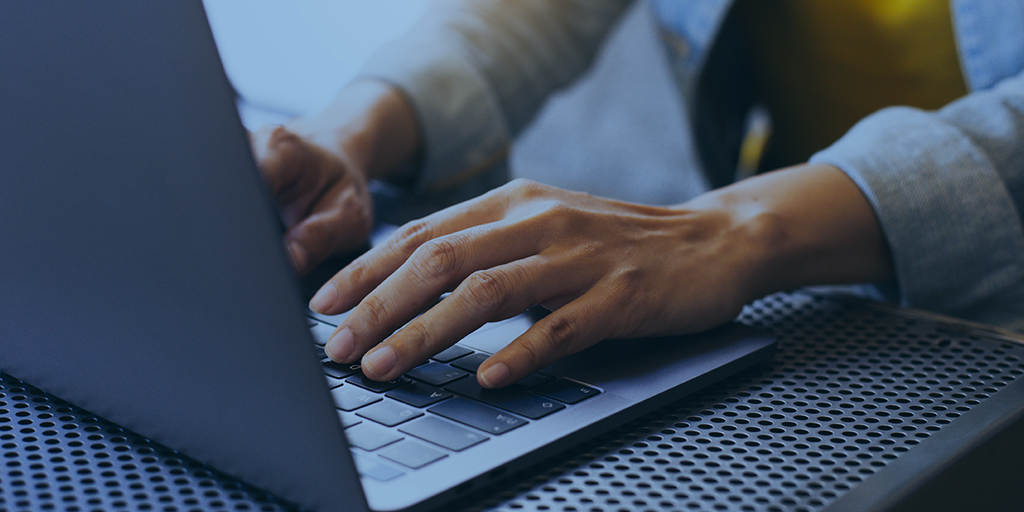 If you already use a Transportation Management System, you know it is invaluable on a day-to-day, per shipment basis. But the technology is swiftly moving forward. Evaluate yours today!
1) Shipping Automation
Undoubtedly automation was the first thing you looked for when selecting your Transportation Management System (TMS). But not all TMS automation tools are created equal.
The shipping automation tools you should have include:
Multiple tariff rate management

Multiple carrier type management

Sales order management

Customer shipping notifications

HAZMAT air & ground documents and codes library

Multi-leg shipping tools

NMFC management

"No dimensions" parcel processing

Returns processing management

International documentation

Claims management and timeline notifications

SO MUCH money is left on the table by shippers on claims due to the paperwork and follow-up involved. See our post on this here.)
Our TMS automates shipping management to the point that many of our customers can reallocate personnel up to 20-30%.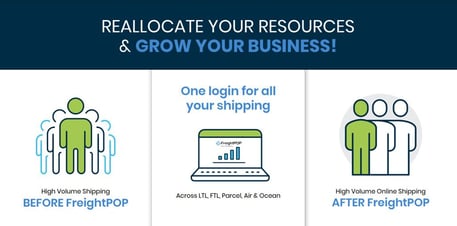 One specific example of this was with a major online retailer that was able to move five staff from their shipping department into other areas of the business, as they were saving 200 man-hours a week due to the automation tools we provide. (To read more about this case see our post Grow Your Business With TMS.)
Ideally, your automation tools should be continually evolving. At FreightPOP, we roll out new features every quarter to ensure our customers have the best tools to allow shippers to "ship smarter, and ship easier".


SLASH PROCESSING TIMES - Read 4Wall Entertainment Case Study


2) Transportation Management System Connectivity
Robust connectivity will enable you to receive, update, and track orders from external applications inside the software. Much like how a smartphone is a centralized platform that allows users to interact with many data points seamlessly, a good TMS should offer that same user experience.
You need connection to multiple carriers, APIs, and to your own accounting, CRMs, and warehouse programs. All this data should come together in one TMS interface.
FreightPOP's connectivity includes:
Plug and Play (self-serve) ERP and WMS integrations

Multimodal connections to local carriers, parcel, LTL, FTL, intermodal, and international ocean and air

We are currently connected to over 300 carriers - and we are constantly expanding our connections

Freight invoice connection through EDI from carriers

Solid connectivity saves you time and gives you more control. You should be able to easily manage scheduling shipments for all modes and batch shipping. Routing guides and end of day manifests should also be readily available through your TMS.
3) Freight Rate Shopping
Bottom line: Rate shopping is a huge time-saving feature for shippers.
What would typically take a shipper up to half-an-hour in calling carriers or logging onto carrier websites to obtain quotes, can be scaled right down to an average of seconds per shipment.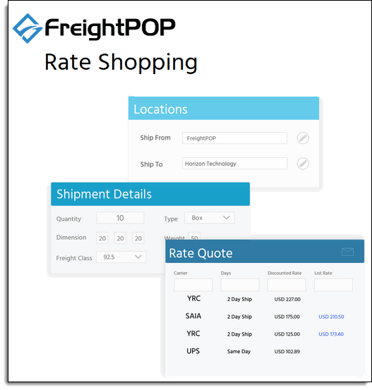 Our TMS enables the below type of rate shopping in a side-by-side layout for ease of selecting and printing out shipping labels.

You can shop:
Carrier rates

Your established contracted rates

Marketplace rates

FreightPOP sponsored rates

Background rates on 3rd party shipments

Spot quotes

Spot quote shopping can be a very tedious process of emailing carriers and often missing out on opportunities to get on a truck at the best rate. For more on this, please see our post 3 Tips to Get the Best Spot Quotes.
4) Freight Reporting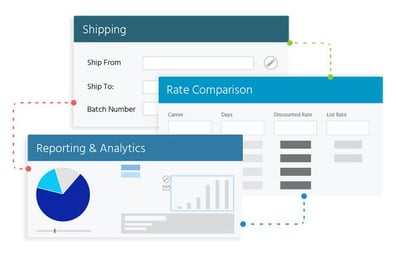 A good transportation management system should enable shippers to isolate billing issues, audit carriers, and prove ROI to upper management. Analyzing your shipping data enables you to make informed decisions going forward. We offer freight reporting at the click of a button - or they can be automated to generate and email at specific times.
Something to keep in mind about our solution is that we are highly customizable and are rolling out additional features and reporting capabilities all the time.
5) Maintain Internal Compliance
Your transportation management system should tell you if your shippers are shipping with the lowest cost available at the time of particular shipments, or if they might be shipping with a carrier at higher rates because they may be spiffing them gifts.
With our "Lowest Quote Shipping Compliance" report, for example, you can see how much of your shipment was sent out at the lowest cost rate vs. how much you could have saved if a higher rate was selected instead. You can also set date ranges on these reports to see when overspending was occurring, which will assist you in pinpointing the cause of the inefficiency.
The primary objective of your TMS is to help you save money and make shipping easier. This can be achieved through automation tools, connections to external data points, or even through reporting that shows you where you are leaving money on the table.
We created our TMS because we were shippers without the tools needed to save money on our shipping. We also found typical TMS solutions too cumbersome, not customizable enough to fit our business needs, and too expensive.

How FreightPOP Helps Shippers
Check out our case study outlining how we helped full-service entertainment company 4Wall Entertainment improve their customer service and slash processing times!