5 min read
Expert Gives Tips on Managing Logistics for Specialty Moves and Trade Shows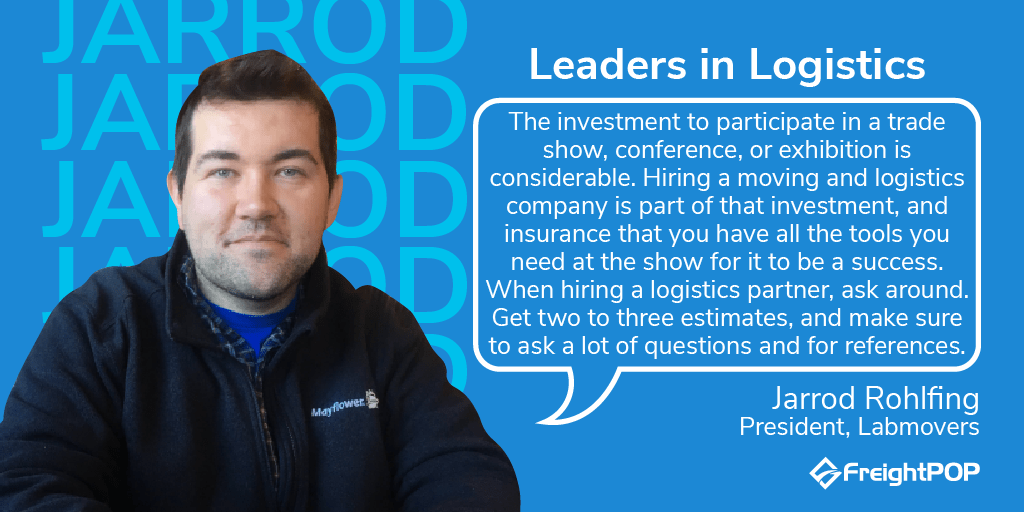 Jarrod Rohfling is the president of Labmovers and a Corporate Moving Consultant at Brookline Transportation Co., Inc (BTI)—a Mayflower agent. BTI is a full-service mover specializing in moving lab equipment, biomaterials, and regulated chemicals that pose unique logistics hurdles. They also head up specialty moves for clients that require more than just pickup and delivery, like trade shows booths that require assembly and disassembly.

FREIGHTPOP: HOW DID YOU GET INTO THE LOGISTICS BUSINESS?

JARROD: I was a student in high school and started working at BTI in 1998. It's a family business, and as things progressed, much of our warehouse space flipped from residential household goods to high-dollar consumables and equipment freight.
We're now a full-service mover, and a terrific aspect of this work is that it changes every day. Residential moving has its share of daily challenges, but with high-end logistics, it's a lot of different projects that require skilled equipment movers, tech, and assemblers. We often move, install, disassemble, and decommission labs and trade shows.


CHALLENGES WITH SPECIALIZED MOVES



FREIGHTPOP: WHAT ARE SOME OF THE MORE COMMON CHALLENGES YOU SEE WHEN WORKING WITH SPECIALIZED MOVES?




JARROD: Each project we book is so varied and unique. You really have to make sure you're dotting the I's and crossing the T's to make sure everything moves properly for our customers. Mistakes are usually costly and time-consuming to fix. The more details we have from customers for shipping labels, bills of lading, labor rates, etc., the better it is when we pick up products for delivery, building, and assembly.
Another big challenge we face, just like a lot of companies, is dealing with ongoing labor challenges. There doesn't seem to be enough labor in the market, which can stop us from doing more.


FREIGHTPOP: SO, HOW ARE YOU DEALING WITH THE LABOR SHORTAGE?

JARROD: It's complicated. You either have to decide that you have a finite number of skilled resources available to you and then work different shifts in the morning or evening, or you have to bring in labor supported by temp agencies. We can't use temp hires for many of the skilled projects we do. We just have to do the best we can.


TRADE SHOW LOGISTICS



FREIGHTPOP: WHAT ADVICE DO YOU HAVE FOR MANAGING TRADE SHOW LOGISTICS?



TRade Show Checklists




JARROD: The investment to participate in a trade show, conference, or exhibition is considerable. Hiring a moving and logistics company is part of that investment, and insurance that you have all the tools you need at the show for it to be a success. When hiring a logistics partner, ask around. Get two to three estimates, and make sure to ask a lot of questions and for references.
We work off a checklist procedure for every trade show, and you should expect any logistics and moving company you hire to do so, too. The checklist should include loading and delivery information, weighing shipments, documentation, padded items, and a detailed bill of lading. For international shows, you also need a shipper's letter of introduction, a certificate of origin, and a U.S. Customs power of attorney.


Trade Show Movers

JARROD: Make sure the movers involved wear recognizable uniforms or identification. Your sales people at trade shows will have shirts or badges, and the movers should be easily identifiable as well so trade show staff know who they are and why they are there. Your movers' behavior will reflect your company, so when they are onsite, they need to act and dress professionally. Look for a company that has guidelines for conduct and provides training for drivers and crews.


Pad Wrapping

JARROD: Require pad-wrapped shipments and items remain in the padding until they are placed in the booth. Some movers will unwrap them before entering a facility to save time with material disposal, but it's an easy way to damage something.
Contact Information

JARROD: Lastly, it sounds simple, but you must ensure you have contact numbers, including after-hours. Trade show setups often happen in the early morning or at night, and you can't afford to wait until the next day to get answers. We'll have a company representative on site for larger movers like Mayflower.


PROJECT MANAGEMENT AND COMMUNICATION

FREIGHTPOP: WHAT IS THE MOST IMPORTANT THING YOU DO FOR CUSTOMERS?

JARROD: Great project management and communication. We're a type of carrier that doesn't leave anything to chance. You've got to make the calls, call the Marshall in the yard, be there early, make sure you have available driver hours, and pre-plan. You've got to have your ducks in a row to avoid delays.
For example, we know that a company's investment to participate in a trade show can be considerable. How you transport, set up, and break down your booth makes a big difference. It takes a significant amount of coordination and communication.
For lab moves, we have to provide a safe and successful move every time. We start by conducting a virtual survey with customers to get eyes on their space. We record the survey so we can review it in detail and put together a comprehensive project management plan for lab moves.
We work hard in preplanning so there are not a lot of change orders on these projects. During lab moves, many customers will say, we're not taking this, or we're selling this or surplusing that, dispose of it. They just want to get things moved. So, experience-wise, we know this, and we include options in the proposal.
There are also a lot of compliance regulations, especially when it comes to moving biomaterials or regulated chemicals, that we account for on behalf of our customers.


THE FUTURE OF FREIGHT LOGISTICS

FREIGHTPOP: WHAT'S THE FUTURE LOOK LIKE FOR YOUR CUSTOMERS—WHAT SHOULD THEY KEEP IN MIND?

JARROD: In the freight world, capacity is still a huge issue with the driver shortage and other major issues. My only prediction is that shipping will be more expensive, and timelines will be a little further out.


DO YOU HAVE A STORY?
Are you a logistics professional with insight to share? What challenges and solutions are you seeing with your high-volume shippers? Reach out to us and schedule an interview to share your experience.