7 min read
FreightOptics CEO Brad McBride Talks Carrier Bidding Trends and Digitization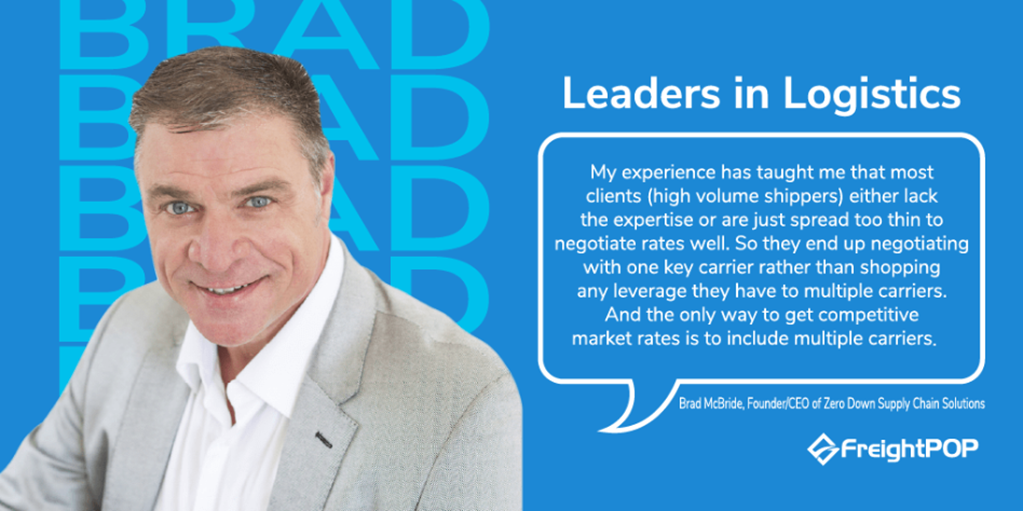 Seasoned industry leader FreightOptics CEO Brad McBride talks about the trends he sees in carrier bidding processes and what holds companies back from negotiating effectively.
Brad McBride, founder and CEO of Zero Down Supply Chain Solutions and FreightOptics, joined us earlier in the year for our Accurate Invoicing is Just as Important as On Time Delivery feature.
Today, he dives into his logistics background, shares his observations on carrier bidding and digitization, and helps us look to the future of logistics.

FreightPOP: Can you share a bit about your logistics background?

Brad: I've been in the transportation industry for 32 years now. I started working for the carrier side with LTL back in 1988 with Consolidated Freightways in Dallas, where I learned how to move large volumes of freight, how the industry operated, and how to price business to customers to make a profit.

In 1993 I moved to Eagle Global Logistics, where I got into international and domestic freight forwarding, ocean and air shipping, and learned how to move time-critical shipments.
Eventually, Eagle grew to $800M and acquired Circle International,
which led me to then move to Miami to run South American sales. Nokia was my largest account at the time and kept us very busy with distributions all over the Americas. I left the company and started Zero Down Supply Chain Solutions in 2003.


FreightPOP: You mentioned the concept for Zero Down came from your experience3 at Eagle?


Brad: During my time at Eagle, all kinds of high-level bids came across my desk for our South American business. And I realized that once a carrier has to start guessing at a client's characteristics, shipping volumes, and general freight profile, rates go up.
And there were "exceptions" that came across my desk—large name companies too. The exceptions I saw really had a lot of information and allowed me to take the detailed data to help with an internal sell to my operations team on how we could onboard these businesses profitability and still provide the customer with an efficient pricing structure that mutually benefited them and us.
That's how Zero Down got started. I identified a disconnect in that part of the bidding. So, we started managing the formal bid processes for large volume shippers. We went in, and we got all the details—which is where the key problem is. It's not that what we do is rocket science. It's just a lot of work, especially if you don't have an easy way to get at the details with technology.


FreightPOP: How do you support shippers in negotiating with carriers?


Brad: My experience has taught me that most clients (high volume shippers) either lack the expertise or are just spread too thin to negotiate rates well.
So, they end up negotiating with one key carrier rather than shopping any leverage they have to multiple carriers. And the only way to get competitive market rates is to include multiple carriers—which requires a lot of time and effort.
And this is where Zero Down comes in. We automate parcel and freight negotiation processes and include multiple bid participants in order to leverage the event. This saves our clients time and achieves the best results.


FreightPOP: In your experience, are freight and shipping managers taking advantage of reporting and auditing?


Brad: Again, I believe that a lack of time prevents them from consistently doing this. Quite frankly, most clients are struggling today dealing with all the disruptions that are happening right now.
They're having to source inventory from various suppliers and getting different teams to fulfill orders due to severe bottlenecks. Clients are focusing on getting finished products out the door as quickly as possible, resulting in very little time or effort on strategy.
The other situation is many businesses don't have user-friendly technology. Many of them rely on outdated platforms that prevent them from accessing powerful data that modern platforms can give them. When we consult with some of these clients, they cannot believe the type of data they can access with the right platform.


FreightPOP: In a Supply Chain Guru interview

,

you talked about how a high percentage of logistics companies are deploying outdated platforms and are essentially "technology dinosaurs".


Brad: Yes, that interview was with Scott McKenzie. That was a fun interview. I believe I was talking about many of my competitors. Many of them were built back in the nineties, and they are still relying on nineties technology. Some of them were built before the iPhone was even released if that gives you an idea.
So, in essence, many of today's leading consulting and technology companies, from a technology standpoint, need to make the digital transition themselves before they can even deliver digital upgrades to their clients. And some of these companies have 3-4,000 companies or more on their platform.
But of course, all of those companies only know what they know. They don't see the difference since they've been using a certain platform for many years. They simply don't know, or sometimes refuse to take the time to learn, about emerging technologies in supply chain.
I have a lot of respect for businesses that actually invest time to take meetings with companies they may not have ever heard of before to see and understand the rapid changes that are taking place in this industry that can help them reduce costs, improve efficiencies, and create meaningful bottom-line profits.


New Guide: 8 Strategies to Build a Disruption-Proof Supply Chain
FreightPOP: How can shippers meet their goals through technology and software?


Brad: The COVID-19 pandemic has undoubtedly changed the way people embrace technology. Worldwide, all of us as individuals and as businesses we're forced to make rapid changes from a technology perspective. From a logistics standpoint, creating a shipment in a TMS from your living room versus having to go into the office to do it has made a big difference.

FreightPOP: What can truly be achieved by diving into the technology to digitize your processes?


Brad: Transportation is one of the top P&L line item expenses for many companies, with shipping performance having huge impacts on bottom lines. And with people strapped for time, technology such as artificial intelligence and machine learning provide valuable analysis and insights at a fraction of the time on much larger and more complex data sets than ever before—intelligent data points that inform business decisions.
Platforms that quickly sift through data looking for certain value points are those stellar examples as they spell out success and profit in today's environment.
Typically, our clients will negotiate once a year with major carriers. And one of the analogies I use with them is that, okay, you're going into a "big game" with FedEx and UPS to negotiate rates. A game you've "practiced" once in the past 12-24 months. But the opponent practices five-ten times a day each day. It's not difficult to figure out who's going to come out on top in that game. You need to use technology to balance that scale.


FreightPOP: What are some of the misconceptions holding shippers back from investing in technology?


Brad: One of the biggest misconceptions I see is that they don't need to focus on a technology initiative. We often run into internal employees who think, "we've done it like this forever, and it works great."
But companies have to look forward. I always say a rearview mirror is small for a reason. What's happened in the past is important, but a windshield is much bigger because what's out in front of you is something you can control and change.
Supply chain is a trillion-dollar industry and is literally one of the last industries running on archaic technology. So many different systems–it's just a mess. But there is a lot of opportunity, and I believe things are going to happen quickly.
I'll give you an example. Most LTL carriers can give you an API connection so you can access their rates on the front side through a TMS solution. However, only a small handful - or less - provide an API that can give you an API invoice on the backside vs. just an EDI connection, which is most frequently used today.
Why? It's time-consuming. There are a lot of fields to map vs. building out an API to manage that. So, there is a lot of room for opportunity and growth in the supply chain technology sector.
The companies that are open and willing to change their internal processes, using automation and everything else we've talked about, will be the leaders in their respective industries. The ones willing to make changes and invest the time and resources to make it happen—those embracing the digital transformation will come out on top.