5 min read
Quality And Management Insights From Leading Fulfillment Center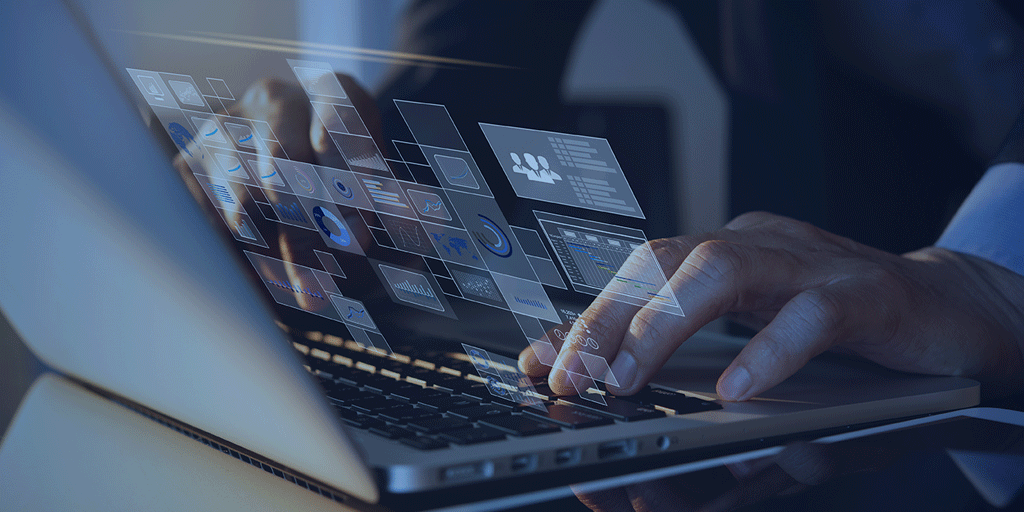 In today's Leaders in Logistics, we feature Jake Rheude from specialty fulfillment center Red Stag, which concentrates on processing and fulfilling heavy shipping for ecommerce businesses.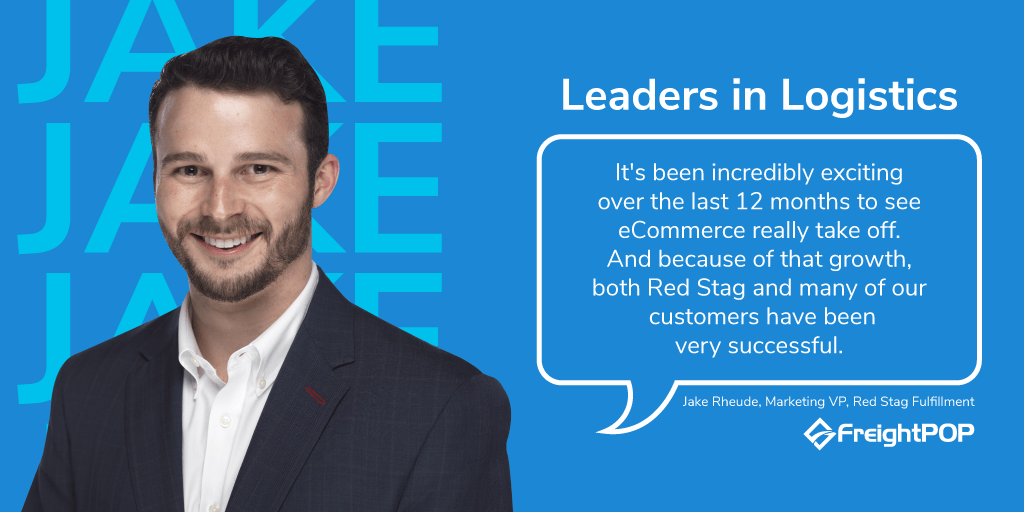 NOTE: To be featured in our ongoing Leaders in Logistics feature, reach out to our team!

Spotlight On: Jake Rheude, Red Stag Fulfilment

Jake Rheude has an extensive background in supply chain management and business development. He is currently the Marketing VP for Red Stag Fulfillment, where he has worked in several capacities since 2015.
Jake's professional skillset is in identifying new opportunities and transforming them into proficient business operations. He provides this and more to Red Stag, a world-class order fulfillment company designed to help ecommerce companies quickly scale with growth.


Shipping and Fulfillment


FreightPOP: What do you like most about working in fulfillment?

Jake: It is fortunate and motivating to be in an industry that is booming right now. We've seen several companies that have just blown up in really good ways that have either allowed them to quit their nine to five jobs and focus full-time on what was just a side business to a $10-20 million a year ecommerce business.
Red Stag has been there for these companies as a supporting player and has helped facilitate their growth. And because of that growth, both Red Stag and these ecommerce companies are more successful. We've experienced many win-wins in that regard over the last 12 months - it is exhilarating.

Warehouse Experiences


FreightPOP: Tell us about Red Stag's background.


Jake: Red Stag was founded by eCommerce entrepreneurs based on our sister company's needs, a successful ecommerce store founded in 2008. That company grew pretty rapidly and sought to use a unique procurement strategy of outsourcing their entire fulfillment process.
But they encountered severe issues. They experienced many bottlenecks with their 3PL partners, with the height of frustration experienced over the 2012 holidays. During a critical time of year, orders were six weeks behind, costing thousands of dollars in lost inventory.
Additionally, they found some of their 3PL partners to have a dramatically different view of where the market was going. At the time, Amazon Prime became a primary driver of consumer expectations on quick delivery timeframes on ecommerce orders. Although Amazon was yet to make large profits, our sister company found their model was changing the game, a perspective many of their 3PL partners did not share.
So, the following spring, Red Stag was founded to serve our sister company. And I came on board in the early stages when Red Stag discovered what it would take to sell in this industry. We investigated what pain points ecommerce businesses were experiencing and how we could meet their needs.


Finding a Niche
FreightPOP: What is unique about your fulfillment center?

Jake: Red Stag works specifically with ecommerce businesses that sell large, heavy items. To paraphrase Jim Collins' Hedgehog and Fox Analogy:
"You can do a lot of things, but a hedgehog does one thing exceptionally well, and that is rolling into a really tight ball and poking its spikes out to ensure that the Fox doesn't eat it. It is the hedgehog's only defense."

Red Stag is not trying to be the end-all solution for any ecommerce company that's out there shipping products.
We aim to be the best, most world-class solution for ecommerce businesses that ship flat-pack furniture, kitchen appliances, or inflatable paddleboards. We have a wide variety of clients, but most of our clients are shipping parcels over 10lbs.


Warehouse Quality control
FreightPOP: How does Red Stag deliver on ecommerce expectations?


Jake: Red Stag has basic checks and balances built into our system that force us not to skip steps. For example, if we receive a pallet for a client, the processing warehouse worker doesn't know how many cases or individual products are supposed to be on the pallet. We intentionally hide the bill of lading from workers during this process, which forces them to disassemble the pallet, count, and scan in every individual box.



It's a very effective blind check with the system. And like that check, there are a lot of extra steps that cost us more time but result in our being able to guarantee to our clients that we can deliver on nearly 100% of their jobs. We are upfront about this with clients. We have middle range pricing, but it allows us to ensure all their SKUs are processed and delivered to their customers.
In addition to hiding the bill of lading, we also use extensive video documentation while receiving and during the intermediate picking, packing, and outbound stages. These additional steps help us prevent shrinkage and customer fraud.
Red Stag's guarantee includes a promise that if there is missing inventory or an order doesn't go out the door in time, we back that up with a refund. And because we incentivized ourselves to focus on quality, when there are errors such as late shipments, miss picks, or lost inventory, we conduct in-depth analysis into the cause of the error to ensure it doesn't happen again. From the president right down to warehouse workers, we work as a responsible team to produce the best quality possible.
It's frankly an enjoyable environment to be in because, despite the high volume of orders we pump out on a given day, we all stop and take ownership to investigate when things go wrong. Everyone aligns with our mission of quality.



Fulfillment Center Core Technologies

FreightPOP: What are the core technologies that fulfillment centers need?


Jake: Our WMS is the beating heart of our warehouses. We have invested well into making sure it serves the flexibility that our ecommerce customers need.
Beyond our WMS, we do not currently use much robotics or automation in picking and packing due to the nature of the heavy items we process. For example, conveyor belts cannot handle the weight of our typical items, so we use the more traditional roller systems that can handle hundreds or thousands of pounds at a time.
Fulfillment centers that process light-weight items, like phone cases or clothing, should take advantage of the automation and robotics that can currently facilitate efficient processing.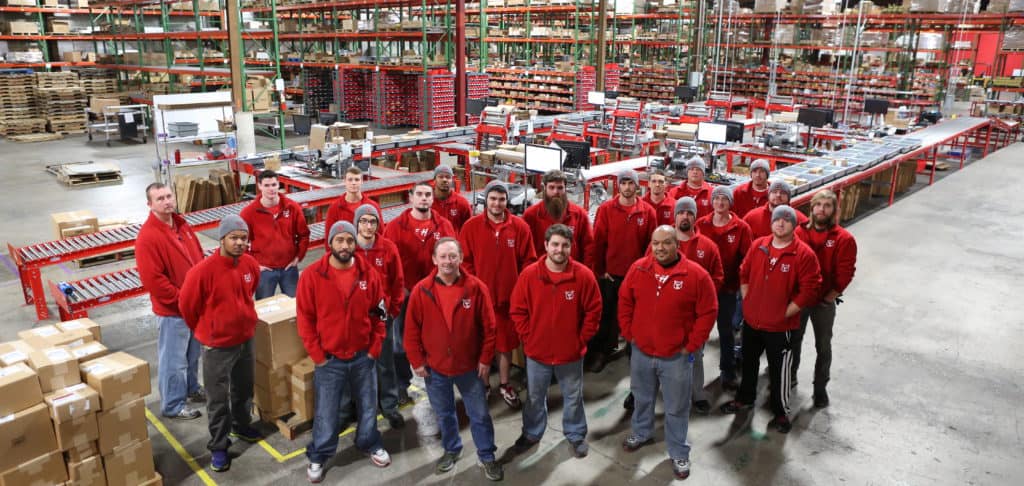 We welcome industry professionals with insights on the challenges facing shippers, ecommerce businesses, and fulfillment centers to participate in our Leaders in Logistics feature. Please contact us to be interviewed.