5 min read
Leaders in Logistics - Meet Lisa Baron-Croft of Ever Reach Logistics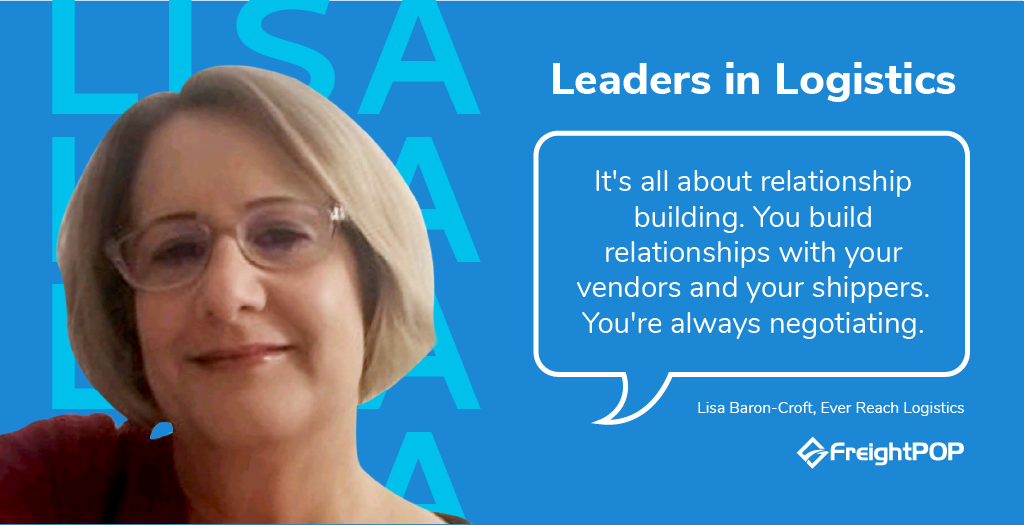 Welcome to FreightPOP's Leaders in Logistics feature, where we talk to professionals who share their experiences and best practices.
With so much change over the years in technology, standards, and our industry's general makeup, let the professionals share their insights and stories! And reach out to our team if you'd like to be featured!


Spotlight On: Lisa Baron-Croft, Ever Reach Logistics
Lisa Baron-Croft, is an Account Manager of Ever Reach Logistics, a logistics company for American Chung Nam, the world's largest exporter of recovered paper in the U.S. and a leading exporter in Europe and Asia.
Lisa is responsible for exporting recycled paper and cardboard from major retailers to Japan, China, Vietnam, and other locations as required by their affiliate Nine Dragons Paper LTD.


FreightPop:
What is a Typical Day for You?
Lisa: I manage locating truckers and finding the best rates for our outside sales that solicit our suppliers' cardboard. I work with a team of account coordinators and other specialty departments who organize the truckers' day-to-day schedules and carry out billing. In my current role with Ever Reach, I manage a lot of ocean freight, as well as truckload and some rail.
I also organize backhauls for our in house trucking company GST. As part of this, I work with existing customers who do not have trucks, do not want to deal with organizing movements, and wish to use us to move loads. We connect these customers with capacity from trucking companies looking to outsource. This is an area of our department we are currently diversifying and expanding.


FreightPOP: How did you get into this industry?
Lisa: I started in transportation in 2001 as an unexpected second career following a sales career in computer services. That career ended when the business' software tools were sold to be used in self-checkout kiosks. At the time, I decided to take the summer off. When a friend of mine, who was a director of a transportation company, called me up one day and asked what I was up to, she encouraged me to apply to one of their offices. Although I knew nothing about transportation when I interviewed, I was told that I was overqualified for the position. I ended up making a deal to work for one year and then reassess if the work was satisfactory to us both.
I ended up working for that company for almost 14 years, finding the nature of building relationships with vendors and shippers and constantly negotiating very appealing. There are some high adrenaline-fueled moments in this work where you have to problem-solve for time-sensitive requirements. And the transportation industry is changing all the time in response to ever-changing markets. This year, in particular with COVID, there have been some unique challenges. Overall, this field is stimulating and enjoyable work for me.
FreightPOP: How did COVID impact the industry from your perspective?
Lisa: Everything kind of came to a screeching halt. First, things were extremely slow, with shippers not shipping or even having their employees onsite. Now, everything has busted loose. Over the last few months, there's been far more freight than trucks, with truckers pretty much naming their price and controlling the space. Although this kind of activity is typical for this time of year before the holidays, it's a little different in the respect that I don't think it's going to end at the end of the year. I believe this trend will continue through to the first quarter, which is usually a quiet and slow period when rates drop significantly due to a lack of freight.
For us at Ever Reach, we have felt impacts with paper quality issues affecting some of our locations. Because there have been more Amazon and online purchases with products being shipped directly to customers, there has been less stock for us to purchase from major retailers.


FreightPOP: Do you rely heavily on phone calls to organize trucks and loads?
Lisa: Over the last few years, things have become more digital, people emailing and texting more than calling. When I first started, you would put on a smile and make hundreds of calls every day, particularly when first establishing relationships with truckers in a given region.
It actually used to get pretty crazy. For the first ten years in this industry, I had four phone lines and a wireless headset on top of using my mobile to text and call. There was a bullpen atmosphere with people hustling deals. But now, it is a subdued environment. Things are more simple. When I need rates, I may make a few phone calls, but I usually send an email out to a select few carriers and await their responses. Or, at times, I'll post on a load board and wait for email bids.
FreightpOP: What are some common mistakes you see people make in this field?
Lisa: People not taking the time to see the big picture. Too often, people fail to take the time to build relationships with truckers, brokers, shippers, and receivers. They don't make an effort to make personal connections, which can hinder you in the long run.
A lot can go haywire with freight. A load cannot be delivered as expected, unexpected storage is needed, or a trucker is expected to hold a load and sit on making any movements. You are more likely to negotiate a workable situation for all involved if you have a solid relationship with those people.
For example, if you always bring good loads to a trucker but now, due a situation they have to hold a load, they may cut you a deal on storage because of that relationship. It's invaluable, and you never know when a situation may happen. Often I see newer brokers and carrier sales agents essentially abuse their truckers. It is shortsighted.
FreightPOP: What advice do you have for those entering the field?
Lisa: Beyond learning to build relationships with your carriers and vendors, when you first enter the field, be open to learning as many aspects as you can. If you're thinking long term, consider starting out with a smaller company where you'll have more opportunities to learn different aspects of the business. Most logistics companies are very compartmentalized. You will be more valuable if you have that high-level insight into how things operate.