6 min read
The Advantages Of Digitizing Freight Data And How To Use It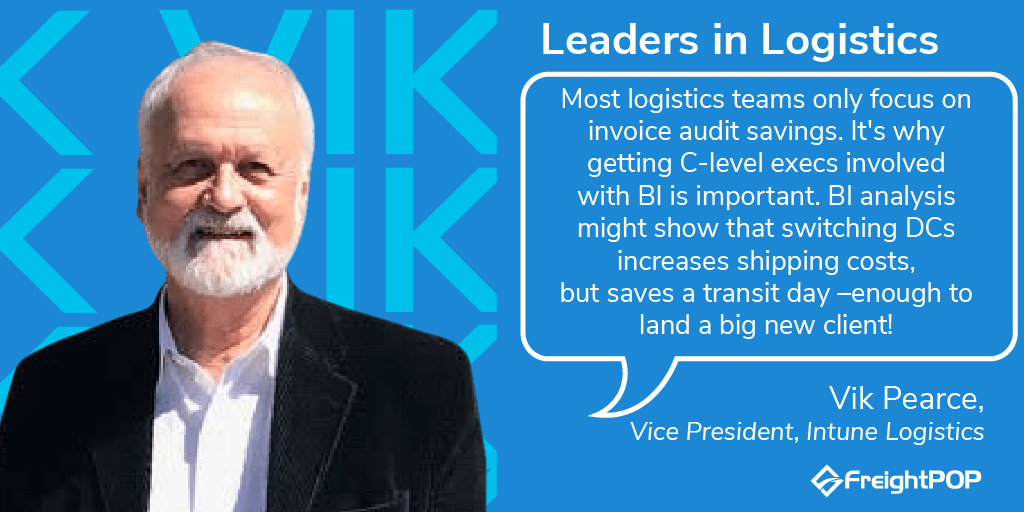 Learn from a freight auditing expert the common pitfalls and opportunities of auditing, how carriers take advantage of shippers, and the benefits of digitizing freight data.
Vik Pearce joined Intune Logistics as Vice President four years ago through his connection with founder and President, Doug Eichenlaub. Although he was new at the time to logistics, Vik brought a strong cross-discipline, cross-industry experience and fresh perspective to his role.
Vik has an Engineering (EE) degree from the University of Manchester, England. He started his US career with Westinghouse Electric's Automation Division in Pittsburgh, PA. programming computers to automate manufacturing lines, steel mills (in Spain), and subway systems (BART in San Francisco and the Metro in Sao Paulo, Brazil).
Vik subsequently got an MBA from the University of Pittsburgh and eventually ran International Sales & Marketing for Westinghouse's Automation Group before starting his career as an entrepreneur.
Vik's multiple entrepreneurial experiences include founding InnovaPad, which today provides mobile technology for firefighters. It lets them "point and click" to quickly collect incident data while at an emergency. This data is used by innovaPad to file insurance claims and recover fire dept. costs.


FreightPOP: Tell us about Intune Logistics.
Vik: Intune Logistics was founded by three partners with IT backgrounds and 60+ years of freight audit experience. They designed and built the Intune Audit and Payment System from the ground up. They took the best features of their previously used audit software systems and fixed the issues that made the systems slow and hard to use.
Intune's business model differs from most audit companies on the market. Such companies typically offer "free" freight audits and keep a percentage of the savings. They require multi-year contracts and focus on easily visible audit savings. After enticing clients with "free", they soon add new fees for less visible services where the larger "hidden" savings are. Clients are stuck in long term contracts as costs increase and/or service levels fall.
Intune Logistics is different. We focus on maximizing client benefits wherever they are in the supply chain, from the very beginning. Our clients get ALL the savings. We DO NOT lock clients into long term contracts but earn our monthly fee by continually providing better services and support than any competitor, and at a lower cost. Our services go beyond only automating freight audit and payment. We include automating freight cost allocation, and provide BI tools and client training with our offering.
BI tools let clients find hidden cost avoidance opportunities outside the audit process (many clients say 60% -80% of the benefits of audit are here). To date, no client has left us because they were dissatisfied with our services, support, or monthly fees. We typically save 5% to 12% of freight spend and continue to grow vigorously often by "word of mouth" client referrals.
Freight Planning - What to Avoid & Where to Benefit
FreightPOP: What are the common shipper pitfalls? ANd are there other cost saving opportunities?
Vik: Many clients are used to the way they have always done things and it's often hard for them to accept change. To help reduce any hesitancy in using Intune's capabilities, we include free training and consultation at the start and throughout our projects. We show our clients what others have done to save hundreds of thousands of dollars, so they know what is possible.

Most of our users come from the logistics and accounting teams. They tend to focus only on the invoice audit saving benefits. They often miss why getting C-level executives involved with Intune BI tools is valuable. For example, BI analysis might show that moving product from one DC to another could save a day in transit and land a big new client–even though it might increase shipping costs.
This sort of analysis is not of interest to a person in logistics but helps the whole company. Often accounting and logistics teams do not see the benefits of BI and do not ask for such services to be included. Without C-level BI awareness, important opportunities are lost.
Leverage Over Carriers

FreightPOP: How do carriers take advantage of shippers?

Vik: Carriers often make their contracts hard to understand. For example, they might charge extra fees for residential delivery when it went to a business address-- something no accounts payable clerk would know to look for.
By automating freight audits and comparing every line item in every invoice to the contract, such accessorial problems are caught, and shipper freight spend is reduced.
Most high-volume parcel shippers already have a contract with FedEx and UPS. When it comes time to negotiate contracts, unless they get the help of someone like Intune, they do not know what others have been successful at negotiating. Though we do not share client information directly, we advise clients where there is room for improvement.
There are many more LTL and TL shippers than those specializing in parcel shipments. Often this means a client uses the same few LTL shippers because it is laborious to look for alternatives. Having a TMS partner like FreightPOP with access to multiple carrier rates, and an audit partner like Intune that works with many high-volume parcel shippers, gives clients who use the expertise of both companies a significant edge.
Digitizing Freight Data

FreightPOP: Beyond line-item errors, what benefits do high-volume shippers get from automating freight audits?
Vik: Catching carrier invoice errors is easy for most high-volume logistics clients to understand. They see that manual procedures cannot catch all the errors and that their high transaction volumes makes it impossible to check each invoice thoroughly. They can see the benefit of audit automation but often need help to see the larger benefits that come from the total digitization of freight data.

Digitizing data allows Intune software to allocate freight costs to client G/L accounts using whatever complex business rules a shipper may have. Intune's software is highly customizable so new business rules can be easily added. For example, freight costs can be assigned to each product SKU so more accurate pricing can be provided to Sales.
Automated audits generate a list of invoices that are "ok to pay," "hold for questions," and "do not pay". Some clients pay carriers themselves, but this is also a task that high-volume shippers should outsource.
Automated audit providers like Intune Logistics are set up to handle high-volume transactions by EDI (electronic data exchange) and already have two-way EDI communication with many carriers like UPS and FedEx. When the audit provider also handles payment, they can communicate to such carriers on behalf of clients via EDI to explain why something is "on hold" or "do not pay". The time and money saved far outweigh the payment fee, and for a high-volume client, savings can be considerable.
Additionally, digitization helps with claims. All clients, big and small, have damage claims they need to make against their carriers. This is a labor-intensive task and often not handled promptly. This does not matter much if a shipper is small, but a large volume shipper can lose large sums by this inaction. Intune has a team that handles carrier damage claims to recover these funds. It is especially valuable to volume shippers with easily damaged high-value shipments.
Large volume shippers often have multiple distribution centers (DCs), many products and multiple outlets. These shippers therefore have many more cost avoidance opportunities. The potential savings are so significant that many high-volume shippers have analysts whose only job is to use the BI tools Intune provides, often on a daily basis.
Partnering with FreightPOP

FreightPOP: Describe your partnership with FreightPOP.

Vik: Our partnership with FreightPOP is based on our belief that the best way to solve big problems is to let experts focus on their core competencies. FreightPOP is an expert in TMS. It provides one standard interface for shipping employees to pick a carrier and select the best transport mode needed by the shipment. It saves clients money in the "pick carrier and follow shipment" process. Intune Logistics is an expert in the "after shipment" process, the "carrier invoice audit and payment" and "BI hidden cost avoidance" piece. It digitizes all carrier shipment data as part of the audit and payment process. This lets clients use Intune's BI tools to find new cost avoidance and improvement areas.
Since a digital bill of lading is created by FreightPOP's TMS for each shipment, it can be easily transmitted to Intune. Details for every shipment are now available from "start of journey to delivery", making Intune's BI analysis even more effective. With FreightPOP & Intune working together, clients get the benefits of TWO domain experts on their team while saving money in the process.


Be Our Next Leaders in Logistics

Join our other logistics leaders and share your insights and experiences. Register for an interview in our Leaders in Logistics!