8 min read
What's new at MODEX this year? 2022 Line Up in Review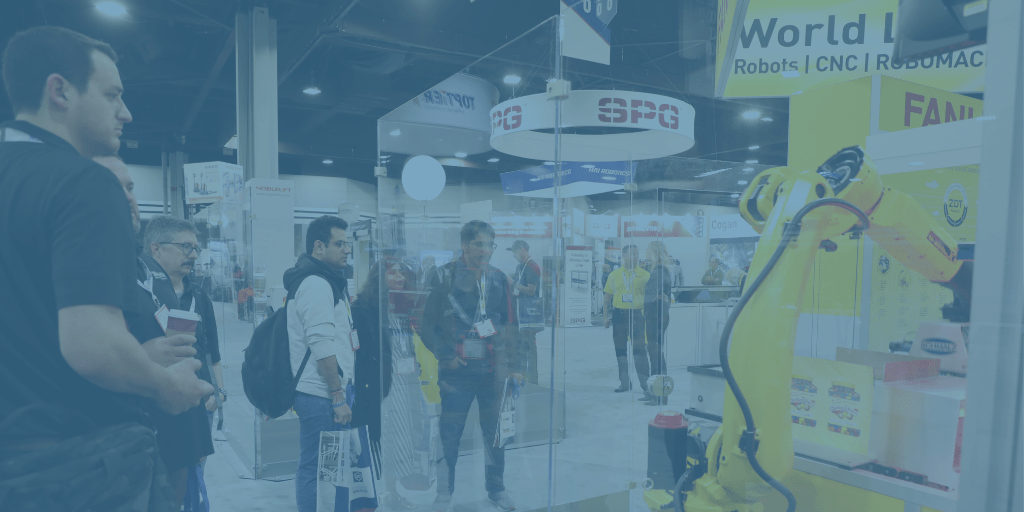 MODEX 2022 is on March 28-31 in Atlanta. We look forward to seeing you there at the FreightPOP Booth C6579!! In the meantime—logistics experts share with us their insights into MODEX's lineup.
MODEX 2022
At MODEX's last show in 2020, there was a heavy focus on robotics and automation. However, this year, there are more sessions and presentations on labor and fulfillment issues and storage and retrieval systems.
Nomadia Group's North American Director, Pierre-Antoine Tricen, comments:
While robotics have been at the forefront of the industry for the past few years (and more to come), it comes as no surprise that the focus on this year's MODEX lineup is heavily focused on the ever-growing issue surrounding the labor shortage in fulfillment centers.
Nearly every business and every industry is dealing with labor shortages and rising labor costs, but no business is seeing a greater impact than in logistics. With continued disruptions to supply chains expected through at least the end of 2022, companies are looking for solutions to make workflow more efficient and profit margins more stable.
Pierre adds:
If anything, the recent pandemic has shown that the labor market in the industry is heavily suppressed. The demand is simply outpacing the supply. And with the heavy shift to eCommerce, more and more businesses are in desperate need of automation solutions to counteract the labor shortage in the industry.
Warehouse automation is still top of mind for many as companies look for efficiencies as a solution to combat increased volume and rising labor costs. Spending on warehouse automation and robotics is expected to top $40 million in 2022 and grow to $69 billion by 2025.
Here is a sampling of some of the on-floor MODEX seminars focusing on automation and efficiency:
Labor Issues
Newmark Associate Amy Rodbell, who assists clients in leasing, buying, and selling warehouse and logistics facilities, shares her thoughts on the MODEX lineup saying:
I am happy to see a focus on labor issues this year as our manufacturing and fulfillment clients are taking a strong look into employment incentives to offset increasing costs.
Often, the first question I am asked when talking through feasibility for opening or relocating a new manufacturing facility is focused on the business climate and incentives available for labor.
Labor issues have dominated much of the news over the past year as workers leave jobs in record numbers. This has created a ripple effect that has driven up the cost of nearly every phase of the supply chain, from shipping rates to consumer end prices.
Amy adds:
We are seeing our clients drill down into where they can find a strong workforce with the needed skill set, then weigh tax incentives from both the state and counties as a first step and this bigger picture makes a huge impact on location strategy.
Some MODEX seminars on managing today's workforce, will include:
Logistics in China
In commenting on the MODEX lineup, Bonnie Girard, Founder of China Channel LLC, told us two issues had been brought into stark relief over the past two years:
The first is that we have learned that China will lock down not only its neighborhoods and factories but also its ports at the first sign of a public health risk regardless of the economic damage which may be caused to itself and others.
In addition, we have learned that container shipping, for all of its efficiency in normal times, is vulnerable to disruptions in the most fundamental of requirements: the availability of labor, warehousing, and trucking.
This is especially timely as industry analysts fear another round of shutdowns in China. As of January 2022, more than 20 million people remain in lockdown, and the country's zero-tolerance policy on positive COVID tests has Chinese manufacturers bracing for additional emergency closures at factories and port locations.
Port congestion, lack of containers, and shortage of both trucks and drivers continue to increase prices and cause delays at home.
Bonnie adds:
Such discussions have their place in any logistics trade show; sophisticated logistics solutions are pointless if goods can't get to their destinations for lack of a truck and driver.
Seminars at MODEX focusing on logistics include:
Supply Chain Management
The last MODEX event took place in March 2020, just as COVID started to rock the global supply chain. Since then, so much about the way we do business has changed.
FreightPOP CRO Justin Dickson says:
The MODEX 2022 lineup is a real shift back to practical solutions around the friction we're experiencing in the supply chain: carrier capacity, strains on products, and visibility on items.
MODEX 2022 provides an opportunity to listen, learn, and share tips and actionable advice on improving and building resilience in supply chains. Justin says the industry is desperate for foundational tips about:
Storage and retrieval systems
How to package items to help hit delivery expectations
Dealing with inventory shortages
Product placement in warehouses
How to get better visibility on inventory
What to do when products back up at ports
How to diversify carriers to solve capacity issues
One of the keys to mitigating fluctuations in the supply chain will be ruthless efficiency to streamline your shipping and logistics processes.
Justin says logistics managers are focusing on:
How to replicate repeatable processes. It's time to work on the basics of streamlining and automating processes.
MODEX 2022 seminars to address supply chain management include:
Justin is currently preparing the FreightPOP team that will be staffing the FreightPOP Booth #C6579. He encourages you to stop by and share your thoughts with the FreightPOP team!
What are you looking forward to at MODEX 2022? See the full lineup of events here.