6 min read
Women and the Workforce: Addressing Labor Shortages and Encouraging Diversity in Logistics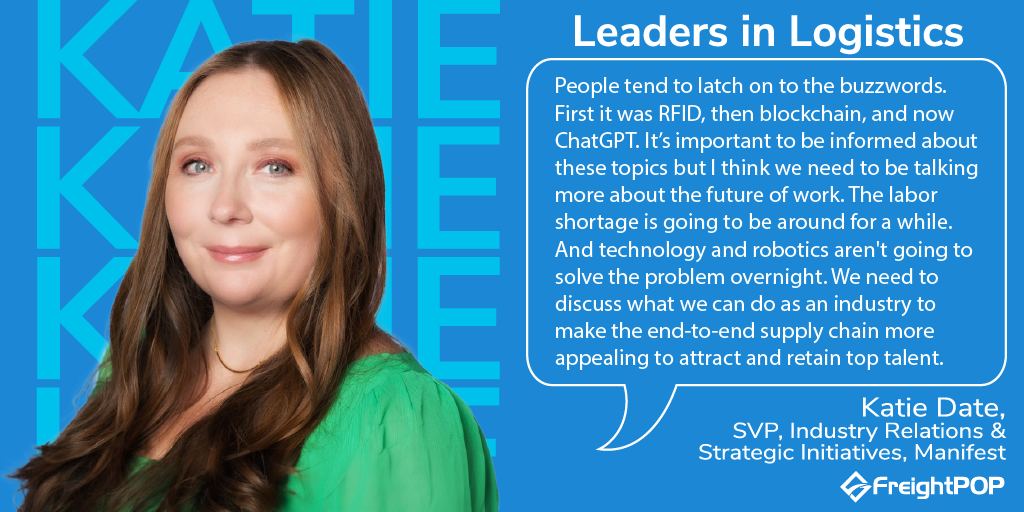 In an insightful conversation with Katie Date, Senior VP of Industry Relations & Strategic Initiatives at Manifest, a premier logistics conference, we discuss labor challenges and the importance of encouraging and supporting women in the supply chain space. Katie shares her journey, her initiatives in bridging the gap between women and the industry, and her views on the trends in logistics conferences.

FreightPOP: Katie, please give us an overview of your background and what led you to focus on women in the logistics industry.

KATIE: Sure! In 2014 I joined the MIT Center for Transportation & Logistics to manage the MIT Supply Chain Exchange, the corporate outreach program. In this role I had the opportunity to work with executives from some of the top supply chains in the world. I quickly noticed how male-dominated the industry was and wondered the reasons for that. I have always been interested in organizational behavior, and being naturally curious, I began engaging with women in the industry to learn their challenges and perspectives. This eventually led me to found the MIT CTL Women in Supply Chain Initiative in 2017.
The two-pronged initiative focused on opportunities for women to obtain graduate education and created programs for mid-career women, the latter of which was in response to a survey I conducted. I reached out to female supply chain leaders and found that many women leave the supply chain mid-career. This can be attributed to a lack of a support network within their organization or professional network. The initiative aimed to create a network and community to help elevate these women.
The initiative hosted the first Women in Supply Chain Summit in 2019, sponsored by Converse, and focused on four specific topics: work-life balance, mentorship vs. sponsorship, global assignments, and networking. It was one of the first times in my career where I was in a room with 100+ female (and a few brave male) Supply Chain leaders of ranging tenures who were all there to discuss a common goal. The conversations and learnings were very productive and led to many connections and a handful of smaller follow-on meetings. While the pandemic derailed subsequent summits, fortunately for the industry the gap has been filled by the Women in Supply Chain Forum which will be November 13-14, 2023.
The initiative also saw the creation of the AWESOME/MIT Achieving Women's Excellence (AWE), a fellowship for women in the supply chain management program at MIT. This is a full tuition fellowship that is awarded in collaboration with AWESOME on an annual basis.
Earlier this year, I received an amazing opportunity to become the Senior Vice President of Industry Relations and Strategic Initiatives for Manifest. I also remain very active with the Women in Supply Chain community and continue speaking at events, focusing on diversity, equity, inclusion, and the importance of diverse suppliers.
FreightPOP: What made you decide to make the move to Manifest?

KATIE: I was a keynote speaker at the Manifest Vegas Women's Lunch in February of this year and I met their amazing leadership team, all while reaching a point in my career where I was ready to take a little risk and shake things up. The move to Manifest seemed an exciting opportunity.
In my new role, I am still very focused on making positive impacts in our industry. I continue to work with some of the top brands in the world with elaborate supply chains as well as some of the most cutting edge supply chain technology solutions. It has also been so rewarding to connect with startups that are just starting to make their impact on the industry. We will also be featuring the Women's Lunch again this year. This lunch is a great opportunity to network and learn from senior women within the industry.
FreightPOP: Tell us more about Manifest and your next conference.
KATIE: I'm really excited about the thought leadership for Manifest Vegas 2024, particularly the ESG (environmental, social, governance) track. The programming team has done a phenomenal job bringing in so many senior leaders who will be on stage sharing their perspectives. You really don't see many conferences with this strong of a focus on ESG, so it's very exciting. New for the 2024 event we are unveiling a Hosted Shipper program which will feature an elevated event experience designed to offer high level networking and curated connections via small roundtable discussions. The industry has asked for more opportunities to learn from their peers and we are excited to unveil this highly interactive program.
February 2024 will be the third year of Manifest. Once again, it will be held in Las Vegas only this time it happens the week leading up to the Super Bowl. We expect many people to come for the conference and then stay an extra day and for Super Bowl festivities.
FreightPOP: Have you noticed any interesting trends at logistics conferences?

KATIE: I've been attending supply chain conferences for over 10 years now and I've noticed how people tend to latch on to conference buzzwords – RFID, blockchain, ChatGPT. But people need to be talking more about the future of work. The labor shortage is going to be around for a while. And technology and robotics aren't going to solve the problem overnight. We need to discuss what we can do as an industry to make the supply chain more appealing to attract and retain top talent.


FreightPOP: Do you have any advice or predictions for heavy-volume shippers in the coming year?
KATIE: The key focus for shippers should be labor. There is a serious need to focus on retaining and taking care of employees. It is essential to invest in people and keep them happy. The market is still challenging, and retention is more economical and efficient than recruitment. And the industry needs to encourage new professionals. The end-to-end supply chain community needs to talk about practical things like getting enough people to staff warehouses and distribution centers and getting more truck drivers on the road.
One of the things I love about this industry is how much things are constantly changing, particularly since COVID. No two professions in this industry seem to follow the same path. Everything is so varied. There is a need for better marketing around logistics to showcase the variety and dynamism of roles available. We need to highlight supply chain jobs and educational and career paths for young people, particularly diverse candidates that are not traditionally drawn to supply chain. My mission both at MIT and now at Manifest is to make the supply chain more diverse and I am encouraged by the steps that many companies are taking but there is still work to be done.


Sneak Peek of Manifest 2024:
Manifest Vegas 2024, February 5th - 7th at Caesars Forum, Las Vegas:
Manifest Vegas 2024's speaker lineup includes CEOs, Board Members, and CSCO from the likes of Flexport, Reckitt, Unilever, DHL, Foot Locker, Schneider Electric, Boston Dynamics, Sam's Club, Ulta Beauty and more. You can view the current list

here.



Manifest is expecting 4,500+ Attendees, 1,000+ Startups & Investors, 1,500+ Shippers, 300+ Exhibitors and over $70B in Funding.
Some of the ESG (environmental, social, governance) sessions planned:


From Production to Transportation & Distribution - Defining The Environmental Impact of What We Do in the Supply Chain With Sonita Lontoh, Member of Board, Sunrun and TrueBlue; Stephanie Benedetto, CEO & Founder, Queen of Raw; Ian Arthurs, CEO & Founder, Circular.co; Andrea Aranguren, COO & Co-Founder, MineHub Technologies
ESG - It Needs To Be Invested in Internally and Externally With Jason Kibbey, CEO, Higg; Shelly Gottschamer, Senior Director of Sustainability, Integration & Reporting, Roots; Tiffany Rogers, Director, Fair Labor Association

One Cannot Tackle Sustainability Alone - How Can Stakeholders Play Their Part?

With Suzanne Long, Chief Sustainability & Transformation Officer; Albertsons Carlos Ruiz, SVP, COO, North America; L'Oreal Michael Fahy, CEO, Americas Region; DB Schenker and Kristen Siemen, VP, Chief Sustainability Officer; General Motors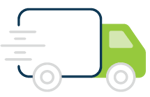 WHAT'S YOUR STORY?
If you're a logistic professional hoping to connect with heavy shippers in manufacturing, distribution, retail, and 3PLs we'd love to hear from you! Schedule an interview to be featured in a future edition of Leaders in Logistics.