6 min read
Solving Work's Jessica Windham on Mastering Logistics and Tackling Team Burnout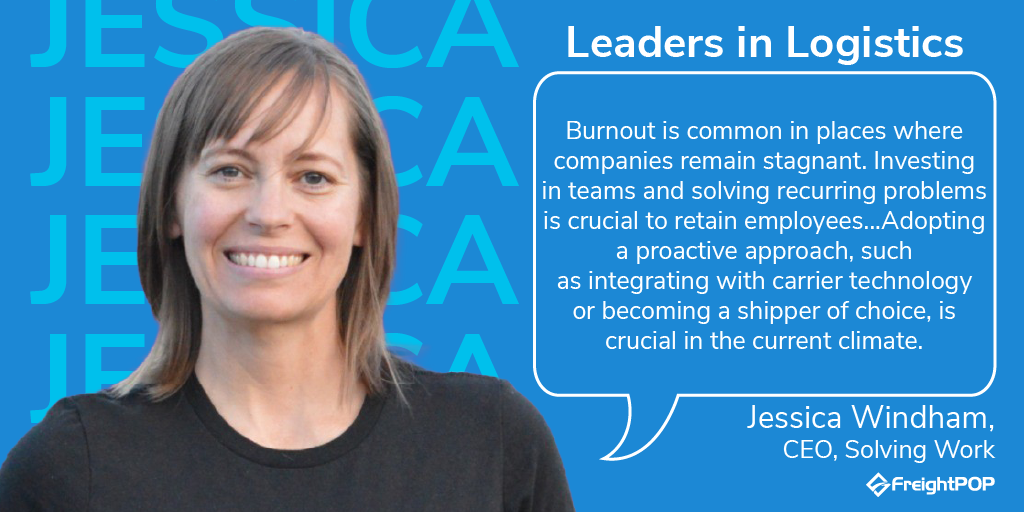 With the shifting dynamics of the logistics industry, companies are searching for more efficient ways to handle their operations. Jessica Windham, a veteran in the logistics sector, shares her insights and experiences and tells about her new exciting logistics consulting company, Solving Work. Here's our Q&A with her.


A Logistics Journey

FreightPOP: Please tell us a bit about your background.

JESSICA: I started in the industry 17 years ago, initially joining UPS in their industrial engineering department. My academic background is in industrial engineering, which was the primary qualification feeding logistics departments before the rise of dedicated supply chain programs.
Since UPS, I've explored all facets of shipping – working for carriers, freight forwarders, shippers, and technology providers like Zero Down Supply Chain Solutions (ZDSCS).
My new company Solving Work assists logistics teams and departments that face challenges due to outdated processes. These teams need a lot of support. We're here to help shippers realize and implement better solutions, whether that's internal processes, technologies, or carrier diversification.
Most shippers struggle to find and properly implement solutions due to time constraints and supply chain disruptions. I'm all too familiar with this "Doom Loop" from some of my previous roles, and I've seen it lead to poor decisions and burnout. Leaning on this very same industry experience, I'm hoping to help shippers break the cycle.
FreightPOP: Who is your ideal client?

JESSICA: My ideal client is a shipper who's at an inflection point. And that can be either from a point of growth, transition, or stagnation. Oftentimes logistics leaders are working with legacy systems or outdated processes. These old systems don't address or can't handle their current challenges. So, my aim is to help these leaders move themselves and their teams forward. I want to provide solutions that remove stress, and create a sizable ROI in the process.


FreightPOP: We've seen you online talking about burnout in the industry. How do you perceive the burnout problem in logistics, and what solutions are companies leaning towards?

JESSICA: Burnout is common in places where companies remain stagnant. Investing in your teams and solving recurring problems is crucial to fighting burnout, and retaining employees. With advancements in technology–especially AI and automation–this is easier than ever before.
Embracing automation not only reduces stress but streamlines operations. Companies that neglect these advancements are bound to face retention issues. Adopting a proactive approach, such as integrating with carrier technology or becoming a shipper of choice, is crucial in the current climate.
Companies must prioritize their teams' processes, partners, and technology. Focusing on these elements leads to better retention and reduced burnout. The industry is evolving, and companies that don't adapt will see their teams and their profits suffer. The goal is to create an environment where teams can thrive and face challenges head-on.


Misconceptions Surrounding Automation and Robotics

FreightPOP: Do you see a lot of misconceptions about automation and robotics out there?

JESSICA: Definitely. Automation is no longer as costly as people think, and a vast range of solutions are available. For instance, vendors now offer consolidations for zone skipping across multiple clients, making it more accessible for businesses without massive loads.
Technological advancements have lowered the threshold where automation becomes feasible too. However, there's still a prevailing misconception about AI and machine learning. Many think of them as magic pills, but in reality, their efficacy depends on the quality of data input. You can automate a bad process, but it isn't a good idea.
Big data, AI, and machine learning are buzz words at logistics conferences right now, but the problem is if you feed these systems garbage, you get garbage out. We've been using ERPs for decades, yet data quality remains a huge concern even there.
Instead of jumping into big data, focus on "small data". Ensure your data is clean, complete, and available. Only then should you venture into more extensive data processing.
Integration and collaboration among partners is another stumbling block. We've seen blockchain, a once-hyped solution, fall short in logistics because stakeholders failed to cooperate. Overcoming such hurdles will be essential for truly harnessing AI.


The Shifting Landscape of Logistics

FreightPOP: What do you enjoy about your role in this sector?
JESSICA: The ever-evolving nature of logistics and the constant challenges keep me engaged and hyped to come to work. Every disruption, like potential UPS strikes or company shutdowns, affects the entire industry as well as the people behind it. But these events push us to rethink, evolve, and stay on our toes.
However, this relentless pace can also be overwhelming. Balancing that excitement with well-being is vital. If you're not careful, the industry's demands will consume you. Setting boundaries, seeking help, and looking out for your teams is essential.
The ones who thrive in logistics are often those who enjoy its dynamic nature. But with operations running round the clock, managing your energy and maintaining a balance is crucial. My mission, both personally and with Solving Work, is to ensure everyone can find that balance.


Managing Logistics Teams

FreightPOP: How do you manage your own teams?

JESSICA: My current challenges are still fresh and exciting. While I can draw from 17 years in logistics, the issues in running my new business are very different. And the rapid pace of these challenges is precisely what I enjoy.
From years of commitment and eventual burnout, I've realized that taking care of yourself is paramount. Interestingly, while many in logistics report feeling unengaged, only some of them look for a new job and leave. Meaning there are a lot of unengaged workers out there. I try to face this head on, with people-first leadership. Prioritizing my team's well-being is the only way to manage burnout, and produce long-term success.
Putting people first, valuing empathy, and cultivating a positive team culture is essential. The industry can be draining, and it's vital to set protective boundaries. By taking care of yourself and your team, and having solid processes in place, we can prevent burnout and ensure retention.


It's All About Priorities and Executive Leadership
FreightPOP: How do you communicate about burnout with your clients? Do you get a lot of resistance—it's expensive to tackle burnout, right?

JESSICA: Looking at the numbers, employee attrition and disengagement is much, much more expensive. Everyone acknowledges the problem of burnout, but addressing it does require committed leadership. With numerous challenges demanding attention, many departments are just trying to stay afloat. We need an executive-driven approach to this, starting at the top. And interestingly, CFOs are starting to show more interest in supply chain and logistics. Hopefully, they bring a heart-centered approach to leadership which will make a significant difference.
After COVID, the digital revolution was unavoidable. Everyone had to adapt to working from home and ensuring deliveries. This situation highlighted the need for technologies and solutions that organizations had previously resisted. Automation, AI, and machine learning will play vital roles in this new phase, but we must ensure we care for our people alongside these advancements, or what's the point?


FreightPOP: Finally, do you have any predictions for shippers as we approach the year's end?

JESSICA: Shippers must be wary of peak season surcharges and general rate increases (GRIs), especially with developments with the new UPS-Teamster agreement. I'd advise shippers to account for these cost increases in their 2024 forecasts and ensure they're integrated into their systems promptly.
We might also see more peak season surcharges, even from LTL shippers, due to the current situation with Yellow and the upcoming Christmas holidays.

Jessica Windham notes that she will be attending the Parcel Forum on September 11th-13th, 2023, in Nashville and Manifest on February 5th-7th, 2024, in Vegas. She encourages anyone wishing to connect there to reach out.