This post is part of The Carrier Rate Shopping Guide.
Here's what we learned about negotiating better shipping rates over the past 20 years of shipping.
Freight is one of the top expenses for companies. There are a number of steps to take to reduce your expenses and turn the savings into profit. To do just that, shippers need to use Freight Request for Proposal (RFP's). For decades, RFP's have been an effective way of negotiating your rates with multiple carriers.
Here are the top four tips when submitting an RFP:
Use your shipping volume to your advantage
Look at various modes of shipping
Negotiate, negotiate, then negotiate some more
Don't make empty promises
Your company may have contracts, negotiated rates, or may be using general rates that the carrier provides. Your freight needs are unique to your business and must be matched with the ideal carriers. You do need the carriers, but the carriers need you more than you might think. You have negotiating leverage. To get the best rates, reduce expenses, and add more to your profit, follow these tips.
1.) Use Your Shipping Volume to Your Advantage
The larger your shipping volume, the more leverage you have to negotiate better freight quotes, but don't think that you can't negotiate better rates with low volumes. Carriers want whatever business they can get. They want to fill up the empty space in their trucks, planes, and ships. Gathering historical volumes and other important information is much easier when you have a TMS (Transportation Management System) that can easily provide this information.
2.) Look at Various Modes of Shipping
Determine if it is possible to switch to a different modal option which may help save when negotiating with carriers. The various modes include Parcel (small package – FedEx, UPS, Etc.…), LTL (pallets), Truckloads, Intermodal, Air, and Ocean. Gathering the data on your shipments and intentionally looking for other modes as an option can help reduce freight costs significantly because some modes are a lot less expensive. On the surface, many companies don't think switching modes is an option, but after looking at the data, you'll realize that it becomes an option that can save a lot of money.


Download the Carrier Rate Shopping Guide
3.) Negotiate, Negotiate, then Negotiate Some More
There are many things you can negotiate: fuel charges, freight rates, accessory charges, and more. The first offer carriers give you may sound appealing, but don't jump the gun. There is always a way to lower the discounts they initially offer to you if you do your research. Don't be afraid to sign contracts with multiple carriers. You won't really know if they gave you the best rates until you start quoting shipments and comparing the rates against each carrier. Having a TMS that gets you the quotes from all your carriers in one screen will be crucial in this process. Once you see who is coming in with the better rates, you can go back a renegotiate with carriers even after you have already signed a contract.
4.) Make No Empty Promises
The carriers may try to upcharge you with hidden fees when your company does not meet the shipping volume you first proposed. In the case you have an off year, and shipping volumes aren't as high as you forecasted, you may be racked with surcharges of not meeting what you initially promised the carriers. In your RFP, make it extremely clear that you are not making any sort of volume commitments. Also, let the carriers know that they will be going up against other carriers. Play them off of each other. Don't tell them exactly how far off they are from the lowest cost but let them know they are not the lowest and they need to lower their rates to be your top choice. Make sure they know you have a TMS that compares the rates of all your carriers, including theirs, and ranks them based on lowest price first. They will be more motivated to give you better rates.
What your RFP should include:
Background- describe your company and reason for the RFP.
Overview- type of products you ship, customers, delivery method, mode, and range.
Objective- define what you need and what you don't need, not what you wish for.
Request for Proposal terms.
Duration of contract.
Pricing- ask them to provide.
Delivery guarantee- what guarantee or reimbursement will the carrier provide for damaged/ missed deliveries?
Data – deliver 2-6 months history of shipments without your cost. The more summaries of your shipping history you can provide the carrier, the better information they will have to get better rates. A TMS that organizes this information into various reports for the carriers makes this process easier.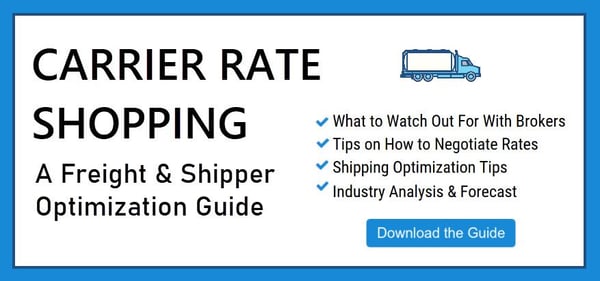 Posts in this series
Prioritize and Simplify Shipping Claim Filing
Why You Should Be Shopping Your Freight Rates
Spot Quotes and Your Freight
Dynamic, Pop-Up & On-Demand Warehouses