7 min read
ECommerce Trends and Why You Should Invest in Shipping Technology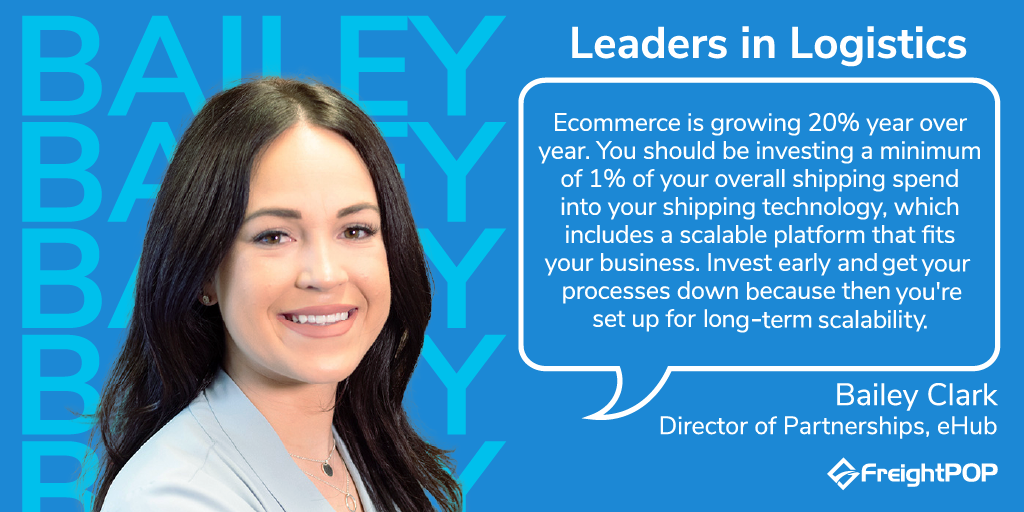 Today we welcome an eCommerce expert who discusses the trends she sees with parcel and freight and what the true value is in investing in your shipping technology.
Bailey Clark, eHub Director of Partnerships, is our latest Leaders in Logistics guest. She highlights timely advice for shippers, including:
How ecommerce and returns as a business are evolving
What to be wary of in carrier contracts
Key areas to work on efficiencies
And much more!


A Logistics Destiny

FreightPOP: How did you get into logistics?


Bailey: I've been working in eCommerce for a long time and I am very familiar with direct-to-consumer brands. This is what led me into the logistics and supply chain space, which I've been working in for over a year. However, it's ironic because my dad has been a UPS captain for 30 years, and my mom was a UPS driver. So I arguably landed a career with eHub that was predetermined for me since I was a baby.
FreightPOP: What do you like about this industry?

Bailey: Supply chain is the most dynamic space I've ever been in, and it ebbs and flows every day.
It fluctuates on so many different variables. On the surface, some of those changes can be accessorials, general rate increases, different dimensional requirements by carriers, etc. Then you've got larger factors like economic markets and fluctuating global health situations.
In the small parcel space, you've got huge players like UPS, FedEx, and USPS, and then you've got smaller carriers and regional carriers and they all compete in an overlapping space. It forces you to be strategic about how you go to market, which I find exciting and challenging.
A One-Stop Shop

FreightPOP: What is eHub and how is it used?


Bailey: At its core, eHub is a single API that allows merchants and partners access to integrations such as shopping carts, marketplaces, carriers and more. We give businesses new revenue and cost-savings through rate optimization, package optimization, reverse logistics, customer support and more.
eHub started out in the USPS reselling space about 13 years ago. eHub's niche was primarily in small parcel, serving mostly the SMB market.
As we evolved, we found that the ecommerce and logistics space was fragmented. So our team developed backend technology to mitigate some of those problems.
In efforts to strengthen our offerings, we are developing an entire "post-purchase" experience—meaning everything that happens after a customer makes that purchasing click; the shipping, credit card processing, tracking, customer support, and the reporting & analytics.


eHub's 3PL Network
Bailey: In 2022, we launched a network of 3PL's. The network is essentially a one-stop shop, where ecommerce companies looking for fulfillment can come and find a vetted 3PL. For example, if they're looking for a certified fulfillment company to store HAZMAT or dangerous goods, they can access our network.
The 3PL's monetize on a few different things–the net new business opportunities, the deals they refer into the network and the discounted rates they are passing to their customers.
FreightPOP Partnership

Bailey: Our partnership with FreightPOP reflects our focus on rounding out our offerings for our customers. FreightPOP has allowed eHub to offer things like LTL and FTL rates, carrier specific pricing, as well as complete automation and optimization of the freight process to our merchants.


Shipping Trends

FreightPOP: What are some shipping trends you are seeing?


Bailey: Tech, tech and more tech! In 2021, ecommerce sales aggregated to around $5 trillion worldwide. Because the consumer trend has shifted heavily to ecommerce, shipping technology has become an integral part of the shipping process. It always has been, but embracing the advancements in technology is key.
It's important to understand what type of shipping technology is conducive for your business so your data flows seamlessly within your internal systems. For example, if you're struggling with pick and pack processes, a warehouse management system will have preconfigured resources to alleviate those issues.
eHub comes in to provide a single solution for all things shipping–through open API accessibility, technology partnerships, and 100+ carrier and ecommerce integrations.


Monetizing Returns
Bailey: Returns are massive in ecommerce. The average ecommerce return rate is around 20-30%. You have companies that make returns about the consumer experience and you have companies that make returns much more merchant-focused. It is multifaceted, which I think is brilliant.
Returns have become a way to monetize on somebody coming back and having that second touch point with your product. Businesses are seeing a lot of success with these return portals. Companies have literally built entire business models around that second touch point with the consumer.
The advancements we're seeing in returns are not necessarily due to COVID, rather the increase in that specific business segment. If we're looking at trillions of dollars in online sales and you take 20-30% of that–that is what makes up returns.
Accessorials in Carrier Contracts

FreightPOP: What are some common shipping errors businesses make?


Bailey: In terms of discounted shipping rates, one of the biggest mistakes I've seen is larger enterprise shippers negotiating contracts with major carriers when they do not fully understand the carrier mix and the way they're being offered a rate.
For example, I'm working with one particular company shipping a high-volume of small products. They negotiated a contract with UPS about eight years ago. The agreement includes a slew of accessorials not baked into the rate table. What they don't understand is that accessorial fees are not capped, meaning annual increases on items such as Residential Fees are extremely impactful. Today, if you're an enterprise shipper shipping directly to your consumer, you are seeing astronomical fuel surcharges.
The largest impact of a long-term negotiated contract is the annual erosion of the discount. So although a shipper may believe they have a phenomenal deal, they are losing money each year because their discount stays the same, yet the rate is increasing.
Warehouse and Boxing Efficiencies
Bailey: It's not just about base rates. It's about efficiency in general. Many companies are not even considering cartonization, which helps warehouses choose box sizes based on products being shipped. Optimizing box size and eliminating air space is key in decreasing total shipping cost.
We also help them look at how they box—whether they're meeting their dim factors, selecting the right service level to ship at, and holistically, how their tech stack helps them scale.
Data is pertinent in maximizing efficiencies in the warehouse. If you're looking at adding a new warehouse, you should be looking at specific shipping data to determine the best warehouse location. The goal is to keep the shipping zone as low as possible. Or you should be looking at programs like zone skipping.


Invest in Your Shipping Technology

FreightPOP: What advice do you have for shippers?


Bailey: Ecommerce is growing 20% year over year. You should be investing a minimum of 1% of your overall shipping spend into your shipping technology, which includes a scalable platform that fits your business. Invest early and get your processes down because then you're set up for long-term scalability.
Once your processes are down, you should be net-profiting off the cost of software. You are in growth mode at that point. And that's when it gets exciting! You can then redirect your efforts into marketing, sales, operations, and all these different aspects of the business that you might not have been able to focus on.
Many people don't realize shipping is an integral part of any business. People tend to write it off because it's not glamorous. No one wants to do parcel audits or optimize box strategies. But I promise you that when you have those processes down, it allows you to focus on the core aspects of your business.



Do You Have a Story?
Are you a logistics professional with insight to share? What struggles are you seeing with your high-volume shippers? How can you help? Reach out to us and schedule an interview!