8 min read
How To Use Dimensional Scanning To Revolutionize Warehouse Efficiency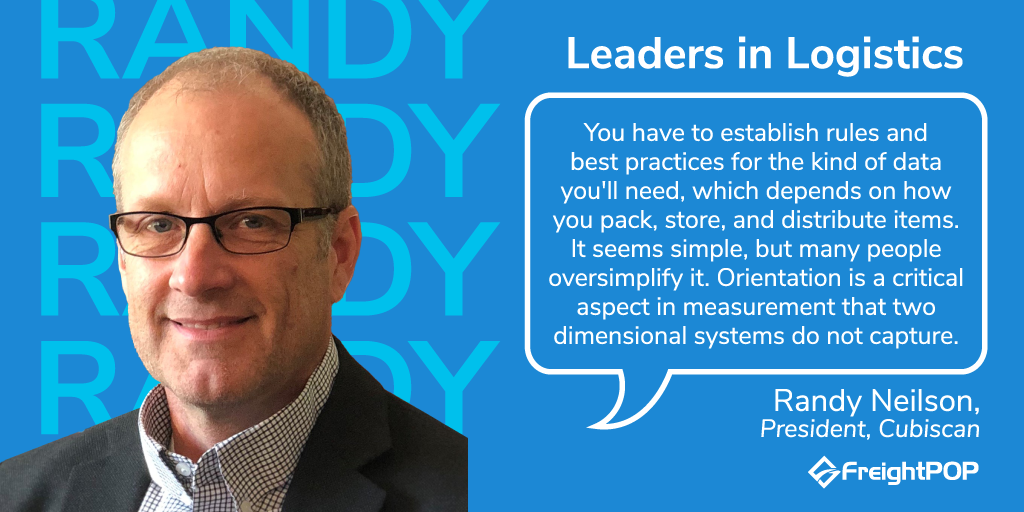 Meet Randy Neilson, President of Cubiscan, which produces advanced dimensioning and weighing systems designed to increase efficiency and profitability in material handling, logistics, supply chain, and freight handling operations. Cubiscan provides small stationary and portable machines, in-motion conveyorized systems, and large-scale pallet dimensioners for accurate dimensional scanning. Randy shares his background in logistics, how dimensional scanning works, and how to effectively use the technology in your warehouse.
Focus on Cubiscan's Randy Neilson
FREIGHTPOP: HOW DID YOU GET STARTED IN LOGISTICS?
NEILSON: After graduating from the University of Utah with a Marketing degree, I worked for a small operation called Quantronix, which is rebranded today as Cubiscan. The company launched to help the Defense Logistics Agency (DLA) based in Utah. The DLA operated a large warehouse handling tens of thousands of SKUs. Their custom in-house warehouse software required dimensional and weight information on every product—and they found measuring everything with a tape measure to be an impractical challenge as it was time-consuming, error-prone, and required manual data entry into the system. The entire process was open to the collection of bad data.
At the time, the founder of our company began experimenting with ultrasonic sensing technology to scan dimensional measurements of objects automatically. Coupling that with a scale technology allowed us to automate the measuring and weighing of warehouse SKUs.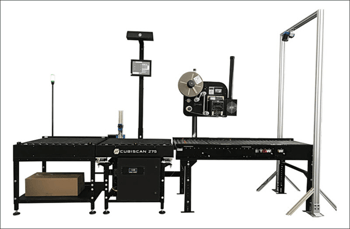 Today, we use sensing technologies, including infrared sensors, ultrasonic sensors, laser sensors, and 3D cameras to capture dimensional data. We collect length, width, height, and weight information and scan barcodes to attach the dimensions and weights to item IDs. These are then used to populate a customer's master data file and declare accurate information to freight carriers for shipping.
Dimensional information is used in many ways. For example, if you have accurate product dimensional data, you can make more efficient packaging, shipping, and storage decisions, and more effectively use the spaces available to you. If you can learn to use space more efficiently, you can save a lot of money.



Never Pay to Ship Air


FREIGHTPOP: WHAT ARE OTHER WAYS THAT DIMENSIONAL SCANNING HELPS COMPANIES?
NEILSON: Because freight carriers charge based on volume, you're paying to ship a box's complete dimensions, whether it's full or not. That means you even pay for the air inside.
With order fulfillment, you need accurate dimensions and weight for every shipped item—not just boxes and packages. If the shipper has accurate dimensional data on every item going in an order, they can make better packaging decisions to reduce the waste or amount of packaging materials needed. Smaller boxes and less open space in a box when shipping translates into savings. The cost of corrugated and void fill material really adds up.



Reducing Carbon Footprints


FREIGHTPOP: THE REDUCED PACKAGING AND WASTE ALSO HELP WITH A COMPANY'S CARBON FOOTPRINT, RIGHT?
NEILSON: Yes! Besides the materials, you also better utilize your shipping capacity. By having accurate dimensional information, you ship in better-sized boxes. Boxes are filled with less air, meaning trucks are fuller, too. If you load a truck with boxes packed to only 60% of capacity, 40% of the shipment is wasted just moving around that empty space. Better packaging lets you utilize space on the truck more efficiently, potentially reducing the number of trucks on the road.
Fuel costs are also reduced with fewer, more productive shipments on the road. There's a real advantage to using highly accurate dimensional information to find cost savings in logistics and shipping.



Bulk Out Before You Weigh Out


FREIGHTPOP: WHAT ARE THE ADVANTAGES OF DIMENSIONAL SCANNING FOR SHIPPERS AND CARRIERS?
NEILSON: Carriers determine how they want to charge for freight, and it doesn't make sense to charge by weight when trucks and aircraft typically run out of space before they run out of weight capacity. We use the term: "bulk out before you weigh out" because by the time a truck or aircraft is fully realized, you've got additional weight capacity that can't be used since nothing more will fit.
Shippers always want to reduce their shipping costs. By using accurate dimensional data and understanding how carriers charge for freight, shippers can pack orders in better-sized packaging and reduce their shipping costs.



Warehouse Automation: Improve Safety and Reduce Mispicks


FREIGHTPOP: HOW DOES PRECISION DIMENSION AND WEIGHT HELP WITH WAREHOUSE AUTOMATION?
NEILSON: If forklift AGVs (automated guided vehicles) move pallets around a facility and the pallet loads are leaning or unstable, this can cause serious safety concerns. Loads can become unstable and fall apart. Or, the AGV might try to slot the pallet in a space it thinks is big enough for a load, but because it's leaning, it could hit the sides of a rack or a piece of freight that's stored next to it. This could result in costly damage and cleanup efforts and present a safety risk.
Our machines determine whether an item is suitable to be handled by autonomous equipment. If the load doesn't meet the size, weight, or load stability requirements, items can be redirected for inspection before costly accidents occur. Dimensional scanning can also help in the order-picking process to check orders for quality control and flag orders that might be mispicks or incorrect.
It's costly if you ship the wrong thing to someone. You have to manage the return, pay for additional shipping costs and labor, and everything else it takes to return the items and restock…and you have an unhappy customer. There's a real benefit to detecting the integrity of your orders before shipping.



FREIGHTPOP: WHAT OTHER TECHNOLOGY TYPES DO YOU SEE BEING ADOPTED IN WAREHOUSES?
NEILSON: It's interesting to see how robotics and artificial intelligence (AI) are impacting material handling and logistics. We've seen disruptive technologies from different industry applications show up in the material handling sector. An example of this is the emergence of drones, which were originally designed for military applications, now being used in warehousing and logistics for inventory counting and order delivery functions. Observing the advancement of innovative technology in material handling and logistics is quite fascinating.


Common Errors High-Volume Shippers Make


FREIGHTPOP: WHAT ARE SOME COMMON MISCONCEPTIONS OR ERRORS YOU SEE HIGH-VOLUME SHIPPERS MAKING?
NEILSON: Some of the misconceptions come from the oversimplification of the dimensioning process. It's really quite complex. When someone says they need to get dimensions on all of the SKUs stored in their warehouse, it may seem as simple as measuring the item's length, width, and height. But what if the item is soft and can be folded? Do you measure it flat? Do you fold it and measure it? What if it's a large soft piece of apparel like a down jacket? Should some of the air in the down jacket be compressed before measuring it because that's how it will be packed in a box for shipping? Is the length, width, and height orientation important for your database? Is the item being measured nestable?
All these kinds of questions are important when taking on a dimensioning project, and employees need to be trained accordingly to ensure that the quality and integrity of the dimensional data collected fits the users' particular application and use of the data.
Dimensioning items in your warehouse may seem simple on the surface, but how you dimension your items may make all the difference regarding its usefulness in your particular application.


LOOKING TOWARD THE FUTURE


FREIGHTPOP: ANY PREDICTIONS FOR THE FUTURE?
NEILSON: It's difficult for companies to consider and implement automation. They see a big, expensive challenge that may take months, if not years, to implement.
With this in mind, equipment providers are trying to make automation more modular, flexible, and easier to adapt to existing operations. In the past, it's been relatively rigid, where companies had to change many of their processes to fit their workflow. Moving forward, automation will be more straightforward, modular, and flexible, so you can adapt more easily as your business grows.
The labor market has also changed, and it doesn't look like it will change back to how it was before COVID. It will continue to become even more challenging to find willing individuals who want to do certain tasks. So, having technologies available to do the jobs will be important when you can't find people.
The pandemic taught us that situations can occur—and likely will again—that impact your ability to operate. People get sick and are rendered unable to work, but if you have automation, the machines can still work for you. Automation can also be used to repurpose workers for more valuable and productive tasks.
So, preparation for the next wave of automation is essential, as is the continued development of automation by simplifying it and making it more affordable.

Learn More!
FreightPOP and Cubiscan are fully integrated partners. Together, they help you reduce spending due to incorrect accessorial fees, rate shopping inconsistencies, lack of visibility into shipments on the road, in the air or ocean, and bad or siloed data. FreightPOP and Cubiscan ensure you operate with accurate data and help you ship in the most cost-effective, streamlined way.
Schedule a demo to learn more!


Would You Like To Feature In Our Leaders in Logistics?

We are always looking for industry professionals with insights into the challenges facing shippers, retailers, and fulfillment centers to participate in our Leaders in Logistics features. Contact us to schedule an interview.