Many enterprises use a combination of carriers and their own trucks for logistics, although challenges lie in knowing when to use 3PLs vs. private and the best way to manage both efficiently.
According to Logistics Management: well-run private fleets continue to set the gold standard for service, safety, and accountability. However, as companies grow, they find operating a private fleet difficult to maintain efficiently and cost-effectively. For this reason, many opt to run a mix of private and for-hire trucks, keeping local and key customers serviced personally, and outsourcing other logistics.
The benefits of running private trucks
Businesses that run their own trucks have several advantages, arguably the best advantage of maintaining customer relationships.
Running private trucks offers:
More control and oversight on shipments, giving greater troubleshooting capability
More opportunities to automate communications to customers
The ability to hire drivers to high standards
The potential to stay on top of capacity issues vs. running into carrier limitations
Greater flexibility when unexpected deliveries are required
The option to buy or lease specialty trucks that can optimize space for regularly shipped unusually sized items
The use of trucks to showcase company logos, building brand awareness
Private Fleet TIP 1:
An enterprise cannot be competitive without the right software; there are far too many variables that impact logistics. Invest in a robust TMS solution to integrate orders, warehouse, CRM systems, etc. (See our guide 5 Must-Haves When Selecting a TMS). A sound TMS system will help you manage your private fleet well.
Private Fleet TIP 2:
"Right-size" your operations with blended private and 3PL options. You may even consider adding 4PL services, which can oversee the management of multiple 3PLs that may make up your supply chain as things become more complex.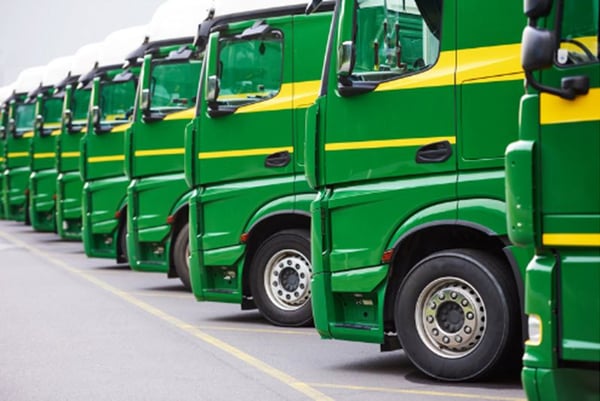 Benefits of using 3PLs
As your logistics grows, running a predominantly private fleet makes less sense as it can impact your core competency. Outsourcing to professional logistics companies helps you do what you do best—which is not running a small trucking company.
3PL benefits include:
Access to expanded logistical networks with reduced costs and improved efficiency benefits
More freight consolidation and shared warehousing options
Driver hiring and management, which removes HR and contending with driver shortage hassles
Improved compliance as credible 3PLs typically stay on top of changes to shipping laws, taxes, customs, etc.
Outsourcing TIP 1: Outcome-based over cost
Make sure your 3PLs relationships are outcome-based and not purely based on cost. Have clearly defined outcomes that can be measured to hold 3PLs accountable.
Outsourcing TIP 2: Be wary of freight brokers
In our Freight & Shipper Optimization Guide, we outline the reasons to be wary of using freight brokers, who initially promise fantastic rates and then incrementally increase rates without notifying shippers. Brokers also add another communication layer between businesses and their customers, which can impact customer service.
AI In Parcel & Freight: Procurement & Freight Consolidation

Managing private trucks and 3PLs from one platform
The right TMS solution will allow you to manage your own trucks and 3PL shipments from one platform, where you can see cost and delivery timeframes side-by-side in an Expedia-like shopping experience.
The right TMS allows you to:
Organize everything from ONE SCREEN—no succession of logging in and out of carrier websites and your system
Shop rates across four options: carrier marketplace, 3PL rates, your contracted rates, TMS partner rates
Set up communication automation like never before, streamlining and improving customer service
Use your contracted rates account number with 3PLs, so you can save more and have tracking oversight
Audit/analyze 3PL spend and compare to private fleet costs
Improve reporting on all logistical activities to better analyze spend


One Platform TIP 1: Get a FreightPOP Demo.
We got you covered with one-click logistics. From parcel, LTL, FTL, International Air & Ocean - better manage your logistics today.
Would you like more tips? Our Parcel & Freight bundle features four eBooks that cover your entire shipping process, from orders to fulfillment. Learn how to aggressively rate shop, digitize supply chains, audit invoice discrepancies, report on carrier performance, and more.