5 min read
Insights On Developing Logistics Software For Mobile Businesses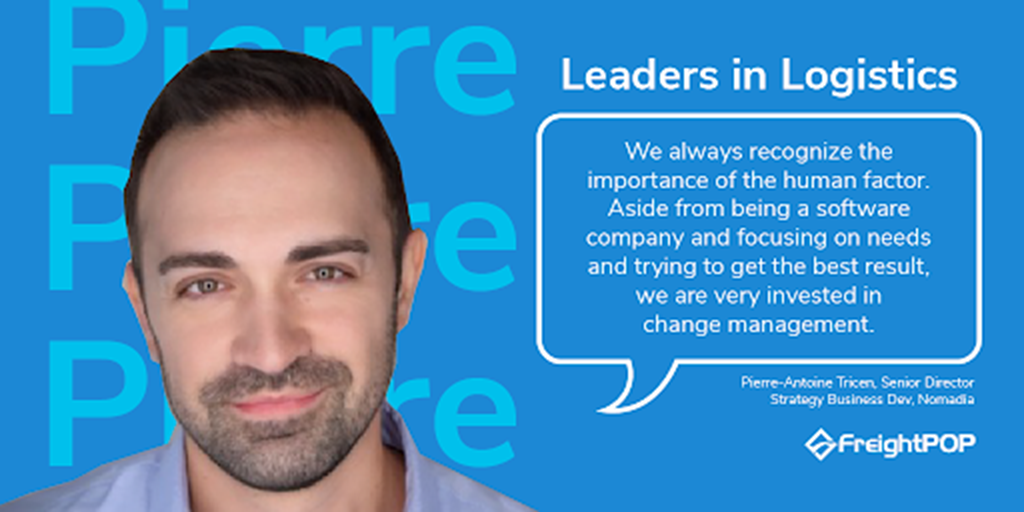 Today's Leaders in Logistics features Nomadia's Pierre-Antoine Tricen, who leverages his international experience in logistics to innovate on TMS platforms.
Pierre has had an incredible career in directing business development in China and France. Now based out of Florida, he is Nomadia's Senior Director of Strategy for Business Development, where he leads their North American operations. Nomadia is a leading publisher of SaaS mobility and service solutions for mobile businesses. More recently, Nomadia signed a contract with Amazon's division in France, an exceptional opportunity for their expansion into Europe.

FreightPOP: What led you to logistics?


Pierre: I started as an engineer. I initially worked for a patent office describing new inventions for acceptance. I was living in China at the time and made the transition to a logistics software company that was rapidly growing. About 50 people worked for the company; now we have grown to over 200. Everything was challenging, and I really liked the job.
Over time, I built a team that progressed to 15 on-site staff. I also took over other teams consisting of 20 staff in India and five in Japan.
An Evolution of Services for Mobile Businesses

FreightPOP: Tell us about Nomadia


Pierre: We launched Nomadia last year, which is an accumulation of much of the work done at GEOCONCEPT, established in 1991. GEOCONCEPT was acquired last year and merged with two other companies to form Nomadia. The range of software that came out of GEOCONCEPT helps Nomadia manage field operations.
Within field operations, there are three main categories. Field Service Management is for technicians, Field Sales Management assists sales representatives, and Vehicle Routing & Scheduling covers everything related to logistics.


FreightPOP: When did your work with TMS platforms start?


Pierre: Because of my work in China and my expertise on-site, we integrated with start-up TMS providers there. As those companies grew, they pushed our product and APIs through to their end customers. All this led to our obtaining a contract with our first large client: a major French supermarket in China called Carrefour.
Nomadia's approach to TMS is more parcel-faced in that the software manages the object. Eventually, we went on to create a new software tool that manages logistics on the ground--such as deliveries and vehicles. With the software tools in place, the TMS bundle allows a company to manage everything related to the work order, the parcel, and pricing. As an example, the software manages 155,000 vehicles optimized on a daily basis.
During my work in China, Japan, and India, I found that different entities had different strategies and different methods for approaching logistics. My time spent in those markets allowed us to gain partners in the TMS industry that help with developing APIs that integrate into the platform.
Our most significant TMS partnership in China provided the foundation for a marketplace strategy built around small contractors with one or two vehicles connected to their TMS. As a result, we emphasized the delivery features from the TMS and tracking.
Optimization Responds to Customer Needs

FreightPOP: What is the key to your success at Nomadia?
Pierre: The key to our success is optimization, with an eye on the market's direction and what the market will accept. For example, the costs associated with vehicles are quite low. As a result, we shifted from an emphasis on saving costs to responding to high demand. Optimization to levels of 10, 15, and 20 percent translates into more stops but less time on the road. More stops equal more money.
Every logistics client will have different rules or different priorities. Using Carrefour as an example, we not only looked for the cheaper supplier but also ensured that orders would arrive on time and that we provided great customer service. Software simulations propel optimization. As an example, a simulation may show that a particular driver will not stay on schedule because the driver picked too much for that day.
Another insight is that companies may not understand the potential of TMS software. While I may not be familiar with the applications they use, we check for the level of integrations that can occur. Using FreightPOP as an example, we look at the application's features to find where we can gain efficiencies and if features--such as last-mile optimization--exist.
We also consider the benefits we can provide for a client. Last-mile optimization and scheduling reduce the complexity associated with the location of the stops, the type of delivery, and how the route aligns with the vehicle type. On this latter point, some trucks may not have the clearance or pass to travel through tunnels. Other types of trucks may have restrictions that keep the vehicle off certain bridges.
TMS software considers vehicle weight and dimensions along with real-time traffic data and historical traffic data when we launch route optimization. If the software sees that rush hour happens between 7 and 8 in a particular street section, route optimization reroutes the vehicle along a different path to save time.
Each feature reduces the potential for conflicts to emerge between planners and drivers. As we encourage efficiency and effectiveness, we also emphasize driver convenience by building feedback gained from the app into routing decisions. Planners can prevent situations where drivers do not follow prescribed routes or a driver not accepting a particular route by reviewing feedback. Having this functionality makes the TMS more adaptable.
Adaptability Addresses Industry Challenges

FreightPOP: What new challenges do you see in the industry?

Pierre: In the Chinese logistics market, the focus is on efficiency. In Europe, efficiency and effectiveness have become dual priorities. A European client may be overstaffed based on the number of deliveries. However, they also want to maintain fewer trucks. They may want to downsize from 3000 to 2500 trucks while still reaching the same delivery pace. Reducing the number of trucks also allows companies to save staffing costs.
To demonstrate the value of efficiency and effectiveness, we established a pilot project that involved simulation results. We used those results to show the actual operations manager on the ground and the planners that route optimization saved time and costs while still providing the same delivery results. Our responsibility as a software company is to understand the needs and attempt to gain the best results. Implementing change management allowed us to build a desire for route optimization among drivers and planners. However, local teams resisted the change in specific areas and prevented deployment.
Data-driven Decisions Conserve Driver Time

FreightPOP: What are common things that new mobile business customers do wrong?


Pierre: Start-up companies with minimal staff of 15-20 people use manual processes involving using Google Maps and Excel. They spend an hour or two per day deciding how to send their drivers on the ground every day. While that can make sense, they have no data to compare their decisions with. Even larger firms that depend on APIs often lack the tools to integrate different systems or to achieve optimization.
Be our Next Leaders in Logistics

Join our other logistics leaders and share your insights and the good work your business is doing. Register for an interview in our Leaders in Logistics!