5 min read
Is Cross-Border Shipping Really That Complicated? We Ask An Expert!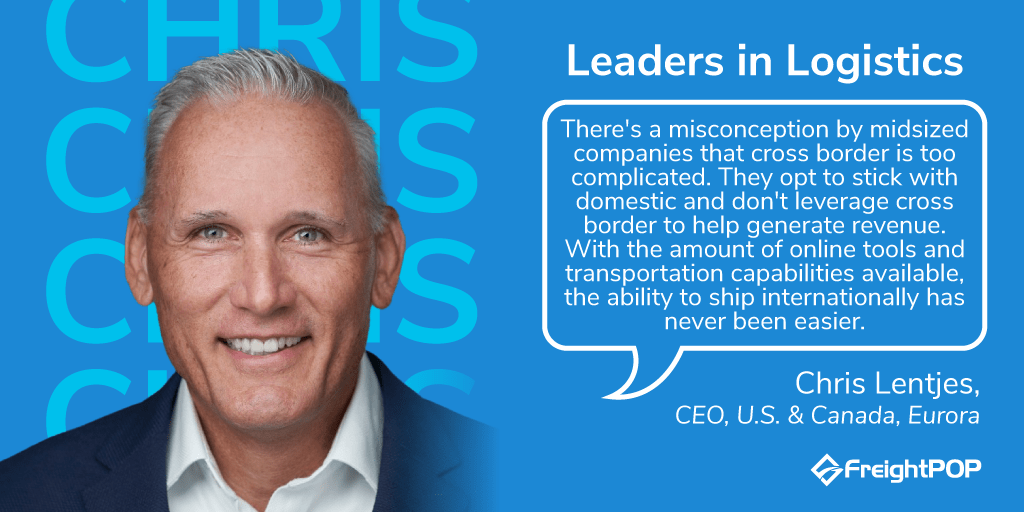 Say hello to Chris Lentjes, CEO of US operations for Eurora. Chris has more than 20 years experience in digital and physical, domestic and cross-border eCommerce logistics in multiple international regions. Today, Chris shares his insights into overcoming cross-border freight challenges and staying on top of constantly evolving changes.


FREIGHTPOP: YOU HAVE AN EXTENSIVE BACKGROUND IN INTERNATIONAL AND CROSS-BORDER LOGISTICS. HOW DID YOU GET YOUR START?




CHRIS: I've been in the supply chain and logistics industry for most of my career, which can be regionally broken into two parts: Australia and North America. In Australia, it really started with TNT, gaining experience in domestic road and international transportation divisions and also at airlines within wholesale and retail express airfreight. I also co-founded a startup company that was focused in supply chain human resources, which was a great working foundation for business management.
Upon moving to the US, I ultimately became more focused on small parcel B2C eCommerce, specializing in US domestic delivery and returns, as well as outbound international parcels. I worked with DHL eCommerce for 14 years in various business and customer focused roles that culminated in working in Product Management in International eCommerce. I then went to Pitney Bowes where I spent four years as VP of Product Management for US Delivery & Returns. Both DHL and Pitney Bowes are great companies to work for and in 2022, I had the opportunity to join Eurora to head up the development of North American operations and really bring together my knowledge and experiences into this new role.
Eurora is an Estonian based company that was established to reshape and simplify cross-border trade for B2C ecommerce. Our team of industry experts have developed an intelligent compliance platform that uses AI and Machine Learning to automate and simplify complicated tasks for retailers, logistics service providers, marketplaces and postal operators when sending goods internationally.


The Myth That Cross-Border is Too Complicated

FREIGHTPOP: WHAT STOPS SHIPPERS FROM LEVERAGING CROSS-BORDER SHIPPING?

CHRIS: There's a misconception by some small to mid-sized companies that cross-border is too complicated. They opt to stick with domestic and don't leverage cross-border to help generate revenue and growth of their business. With the amount of online tools and transportation capabilities available, the ability to ship internationally has never been easier.
Another reason is preparedness. When talking with customers, one of the constant themes that I hear is that there is a gap in mid-term information available on upcoming cross-border changes and whether it impacts their business and what degree of change is required, by when. The rate of change continues to increase and everyone is trying to keep up-to-date with that. Without the right partners that have these insights, it can be tough.


EVOLVING REGULATIONS IN INTERNATIONAL SHIPPING



FREIGHTPOP: WHAT KINDS OF CHANGES DO YOU REGULARLY SEE WITH INTERNATIONAL SHIPPING?




CHRIS: There are a lot of international country level tax changes occurring and also a high degree of customs focus on advanced electronic data for customer data compliance when shipping cross-border parcels.
As examples, in January this year, Singapore changed its Overseas Vendor Registration (OVR) registration process and Goods and Sales Tax (GST). Dubai changed its de minimis values. There have been customs nomenclature updates relative to Harmonized Shipping (HS) codes. In March, the EU will begin to implement changes to Import Control System 2 (ICS 2), which requires six-digit HS codes and improved data quality for the description of goods. i.e. no single words: gifts, samples, t-shirts.
There are proposed changes coming into Norway in September and Canada in October. The UK is also retiring its centralized customs declaration system (CDS) in 2023.
That's a lot of change to be aware of for any business. Making sure you partner with a business that can support you with these changes seamlessly is key.


Simplifying International Shipping

FREIGHTPOP: HOW CAN SHIPPERS SIMPLIFY CROSS-BORDER LOGISTICS?


CHRIS: For retailers, it's all about accurate data and customs compliance to support deliverability on every shipment. On the data, this means having descriptive and accurate commodity descriptions that drive accuracy of HS Codes for improved Duty and Tax calculation. This data is then used with transportation providers that enable clearance into destination countries. This is where Eurora is supporting retailers with EU IOSS tax compliance and also reviewing retailers catalog of commodity descriptions to provide accurate HS codes and duty and tax calculations using our AI technology for use at time of cart checkout. Eurora also enables retailers to check on other regulatory issues that may hold up shipments and this can be done at checkout in milliseconds.
For those Logistics Service Providers that act on behalf of customers, Eurora offers a variety of end-to-end services that can be modular or integrated. These AI-powered solutions can lead to competitive advantages, with up to 5,000 decisions in less than 100 milliseconds.


FREIGHTPOP: WHEN TALKING ABOUT LOGISTICS, WE CAN TELL YOU HAVE A PASSION FOR IT. WHAT ATTRACTED




YOU TO THE INDUSTRY?




CHRIS: Initially, it was my interest in aviation but ultimately, it's an innovative industry and the people. The one thing that is a constant is the people in the industry and really, they are the foundation of every business. Simply, logistics people get things done and are good at being customer advocates. That's an important attribute of working in the industry.
What I also love about this industry is that it's in constant change. When most people think of logistics, they think of trucks, warehousing and parcels. But when you actually look at it, there is so much more in getting a parcel from point A to Point B within a specific timeframe. The people, process, equipment and technology that it takes to keep parcels moving is incredible. The amount of innovation that's occurring behind the scenes with artificial intelligence, robotics, autonomous driving vehicles and ships, drones and other technology is really impressive. This innovation phase will help businesses streamline processes, reduce costs and improve customer experience, which is great for business.


DO YOU HAVE A STORY?

Are you a logistics professional with insight to share? What struggles are you seeing with your high-volume shippers? How can you help? Reach out to us and schedule an interview!