6 min read
Expert Talks about Supply Chain Challenges, Robots, And Reshoring Trends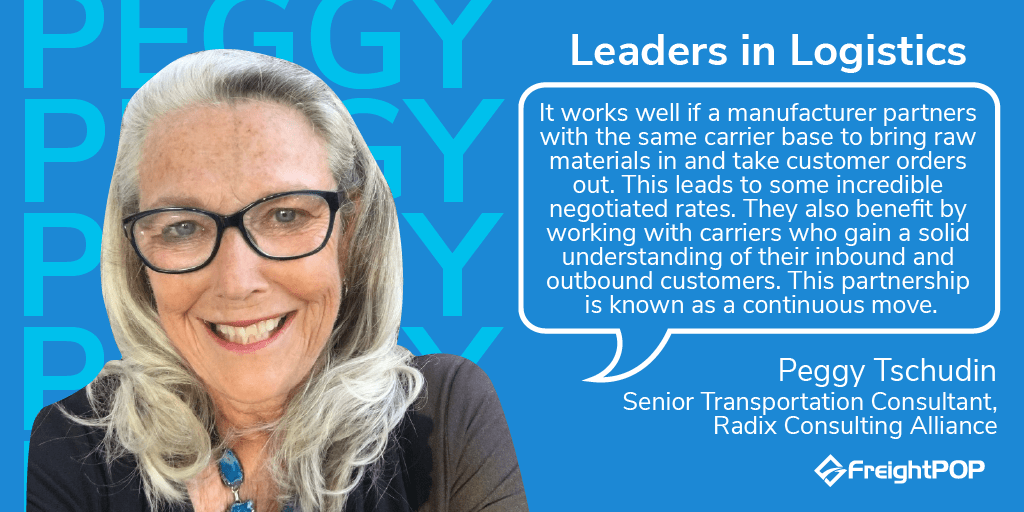 Meet Peggy Tschudin, Senior Transportation Consultant at Radix Consulting Alliance, who talks about her consulting work, international logistics, and current trends in reshoring.

Radix is a consulting firm that offers supply chain support and consultative services to a broad range of companies. Support includes analysis, forecasting, planning, sourcing through logistics, warehousing, and distribution. Peggy has extensive experience and guides Radix's customers through many logistics and supply chain issues.


FreightPOP: Tell us about your background in logistics?


Peggy: I worked 35+ years with a large manufacturer, until the company was sold. Knowing the Culture of Care would change, I decided to start transportation consulting to share my skills and experience with other clients. I had worked with Radix before, so partnering with them at that time was a good fit.
I have complete insight into the entire manufacturing and distribution cycles - pulling raw material in, producing finished products, moving to the distribution systems to customer delivery. It's an invaluable experience on consulting projects, and something research graduates or new supply chain managers still have to develop.
My background includes being a Mid-Level Manager of Distribution Center Partners and Sales Teams in the Northeast. In manufacturing, I managed assembly areas production, three daily shifts, material flow, and daily production. I've managed high-volume shipping environments that operated 24 hours a day, six days a week, with domestic and global operations. My experience also extends to customs management and international commerce.


International Logistics

Peggy: I gained experience with international logistics as my former company developed a global footprint for manufacturing and distribution. We expanded supply chains to facilities we built or purchased throughout Canada, Mexico, South America, Venezuela, Europe, England, China, and Asia. As Customs Coordinator I was responsible for international commerce documentation, customs compliance, and product identifications. We partnered with freight forwarders that provided us education and assisted with process implementation to be customs compliant.


FreightPOP: How did you get into transportation consultancy?

Peggy: My experience has given me insight into how logistics all come together. I love taking that insight and helping customers become successful.
I also love the business part of logistics and seek to apply all my knowledge rather than waste it. So basically, transportation consultancy for me was a natural progression.
Logistics is a wide-ranging field. Since I started consulting I have worked with many different product groups; everything from shoes, wearables to disposable takeout containers, fire safety, component suppliers, and automotive parts—this work is just all over the board, and I love that.
And one of the benefits of having experienced and coming to understand manufacturing and the complete supply chain is a unique command of the processes involved. For example, it works well if a manufacturer partners with the same carrier base to bring raw materials in and take customer orders out. This leads to some incredible negotiated carrier rates. They also benefit by working with carriers who gain a solid understanding of their inbound suppliers and outbound customers. This partnership is known as a "continuous move". Operations managers and freight procurement typically fail to consider this advantage.


Supply Chain Challenges

FreightPOP: What are common things you see when guiding companies through supply chain challenges?
Peggy: We work with small to medium sized clients who are starting to develop their international business. They do not have the customs, import or export knowledge of the requirements to manage the processes. We work with them to develop the process, document and implement the process from partnering with a forwarder for transport to document flow and record retention. After the process is set and implemented, and employee training is completed, the company can manage the process as their business grows

FreightPOP: We saw you at MODEX this year, and in

our recap from the conference

, we highlighted that solving labor issues was a heavy theme. Did you notice any significant trends?

Peggy: I suspected during COVID, when we were all hunkered down and not out in the industry, that issues were evolving that we were not readily seeing. And MODEX unfolded what had been happening.
I did notice a lot of packaging and shipping software changes at MODEX. And how robotics is not just a specialty but another item in everyone's toolkits. MODEX used to have clear sections throughout the venue with the latest in robot tech in their own section. But now, if you stood at the top of the escalator and looked across the conference floor, robotics were in every department, from packaging to fulfillment and delivery solutions.
We brought a lot of automation into one of our warehouses, and even just 7 years later, so much has changed! There were a lot of good robotics on display there, but also many things that looked too expensive and slow. Not practical. And there is still a lot of talk about the number of maintenance techs it takes to maintain a single robot.
Although robots will replace a lot of people, business needs to factor in that you're going to have to hire a very high-level technical crew to maintain and operate those. A lot of these systems are manufactured and supported overseas. I would be very concerned about rolling out robotics and not having local technology and systems support.
Sourcing Domestically


FreightPOP: What should businesses be aware of in shifting supply chains domestically?

Peggy: Over the last few years, especially in automotive aftermarket sourcing, I have seen the strength of the U.S. manufacturing sector grow because of supply chain challenges. I consult a U.S. manufacturing firm that has had incredible growth with what used to be a seasonal type product. Now they have businesses waiting in line to become their customer because they can fulfill orders and readily provide auto parts to dealers. All due to manufacturing on US soil.
Their inbound freight and raw materials have increased, and they have been trying to buy from more domestic suppliers. They are a true success story, and the bottom line for them, despite pricing wars and supply chain challenges, is they can compete because they have availability by sourcing domestically. The container backlogs even at the height of COVID did not adversely affect them like it did so many other companies.


Reshoring is not as Simple as Flipping a Switch

Peggy: The market is turning from offshore to reshoring because it's been proven that if you have a domestic supply chain, you are in a better situation when global markets are challenged. You have a more hopeful success rate than if you're dependent on longer transit supply chains.
With all the backup of the containers you hear in the news, people forget that's where everybody's raw materials are sitting too and how much that holds everything up as well.
I'm working with a furniture company right now, and because of the cost of new tariffs, they are now trying to buy from other countries. But the problem is that ramping up and making products is a long process.
So just because you have a change, like tariffs or regulations, it doesn't immediately make it possible for any company to source from another domestic provider because all providers have a limited amount that they can provide. You can't just flip a switch and move to another provider. This process is a long-term solution and will take much planning and changing to meet the challenge of a successful supply chain!




Do you have a story?
Are you a logistics professional with some great tips and insight to share? Reach out to us and schedule an interview!