4 min read
4 Ways Auditing Your Freight Saves You Money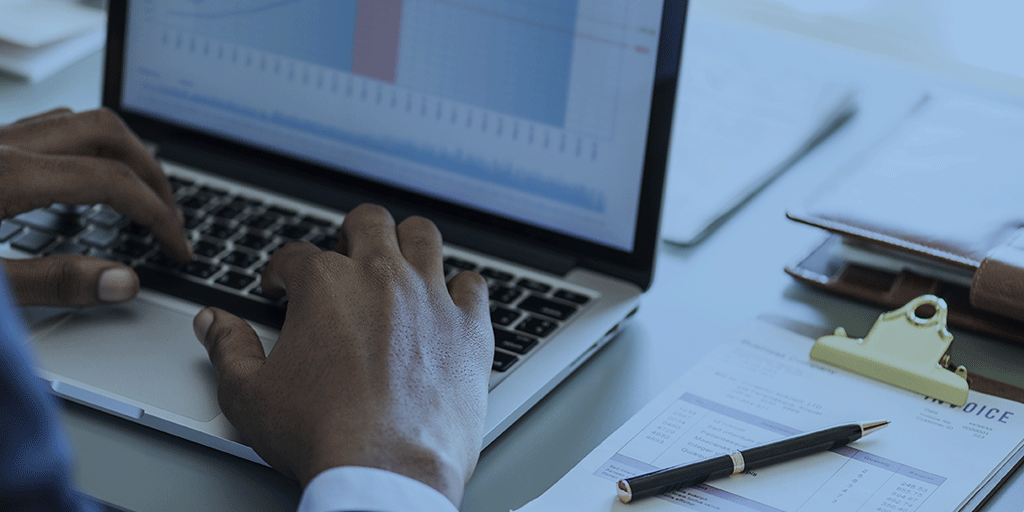 Consistent shipping audits allow you to isolate inefficiencies, optimize your budget strategy, find carrier invoice discrepancies, and hold employees accountable.
Making the task of auditing easy is our job. But what opportunities are being missed when you do not regularly evaluate your shipping processes and spend?


Supply Chain Analytics
To improve operational efficiency, you need to benchmark your entire chain from inbounds, warehousing, orders, and fulfillment. To capture the necessary data to evaluate efficiently, you need to integrate your systems with shipping software (or TMS).
A TMS system should pull information in from your systems and allow you to answer such questions as:
Where can accuracy be improved and operations sped up?
Is paperwork easily found and managed?
Is automation being used effectively to track shipments and communicate with customers?
How often are shipping errors occurring?
How long is it taking to obtain shipping rates/spot quotes and process orders?
How efficiently are intermodal shipments being shipped?

Note: Your shipping software needs to be capable of

multileg tracking

if you organize many intermodal shipments.
Many SMBs are surprisingly relying on manual processes in managing their supply chains. But cost and technology fears shouldn't scare them off. Shipping software that integrates with warehouse and ordering systems has come down in price dramatically over the last few years, with many systems as easy–if not easier–to operate than carrier websites.


This year's holiday shipping: Prepare for an influx of returns!
Optimizing Spending Strategy
Let's talk dollars.
How helpful would it be to see a year-long comparison report contrasting the carrier rates you paid to another carrier? Or to see an overall lane or mode assessment?
How useful would some of this information be when heading into carrier contract negotiations?
Taking advantage of a system that readily gives you data to assess and compare your spend is powerful information that is impossible to gather manually. To find where cost-cutting opportunities are and to know with certainty how best to negotiate domestic and global freight contracts, you need to get your hands on the data.
Auditing your shipping spend gives you business intelligence and keeps you from relying on carriers who most certainly have access to such data.


Find Carrier Invoice Discrepancies
Pricing and service compliance
Auditing your invoices is a must. There is too much money to be recouped, and value learned about your shipping processes and carrier performances to not audit. And freight rates are complicated, involve many incidental charges, and are subject to human and system errors.
In our experience, we have found that customers typically save a minimum of 15% on shipping spend with regular auditing. For a shipper organizing 500 freight deliveries a month, that can amount to $18,750 savings a month!



TO AUDIT, OR NOT TO AUDIT
When it comes to invoice auditing, companies either:
Do not audit invoices
Conduct cursory audits due to the sheer volume of the task
Hire a third party to conduct audits for them
Don't do any of the above!
We strongly discourage shippers from ignoring auditing or doing a simplistic spot check of charges. But we also warn shippers away from third-party auditors for two crucial reasons:
A third-party auditor will take 25-50% of the savings they recover
Third-party auditors do not have complete visibility into whether or not a carrier has met performance.
With 5-10% of deals not meeting delivery requirements, you need to capture line item detail from quote to invoice in order to see if you are charged correctly.
5 Things to Look for in Multi-Carrier Shipping Software
You need a system that can automatically conduct audit reports for you, searching for items such as:
Duplicate charges
Inaccurate

NMFC codes

Rating errors - Do charges match your contract/spot quote?
Incorrect weight
Accessorial fee errors
Applicable tax applied correctly
That all discounts are applied

Employee Accountability
Employees are the backbone of your business. Ensuring they have substantial training, clearly defined roles, a path for professional development, and accountability will help you retain productive workers. In terms of using shipping audit reports to help you track employee performance, you should find software that allows for multiple users and requires staff to use only their personal logins. Such control will help you gauge things like:
Are employees shipping at the lowest rate?
Is there a valid reason for not shipping at the lowest rate?
How many shipments is an employee processing compared to individual and team goals?
How much time are employees taking to process shipments?

Audit Reports for Shippers
Beyond the capability to customize a wide variety of reports, FreightPOP includes standard reports that help shippers evaluate their supply chain, optimize shipping spend, find carrier invoice discrepancies, and hold employees accountable. A breakdown of FreightPOP standard reports features below.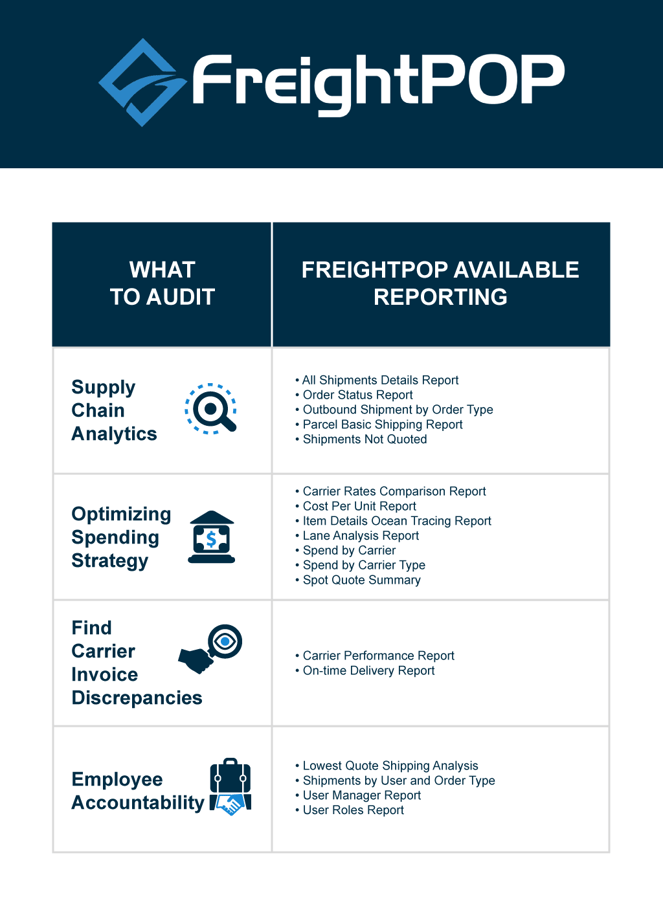 We would love to speak with you more about how FreightPOP helps shippers audit processes–plus our many other system integrations, carrier rate shopping, and automation capabilities. Feel free to reach out for a demo.
Or for more shipping tips, check out our Parcel & Freight bundle. Find out how to digitize supply chains, aggressively rate shop, and more!