Digital supply chains are no longer nice to have, they are a must-have in the COVID and post-COVID shipping environment.
Whether you are a business who is so busy right now you can barely see straight, or small-time business trying to stay afloat, there are three critical areas you need to address when it comes to your shipping:
Do you have supply chain visibility?
Are you effectively shopping for carrier rates?
How can you save on labor?
Supply Chain Visibility
Having supply chain oversight, from inbound raw materials to outbound purchase orders, puts shippers in a proactive position. With full visibility, shippers can reroute shipments that are delayed, communicate with authority to customers, automate MANY processes, and stay competitive in the face of rising customer expectations and Goliath competition.
LEARN HOW: Supply Chain Visibility and Capture the Data That Matters
You cannot have effective oversight into your supply chain without the use of shipping software (or TMS) that integrates with your PO systems, ERP and WMS data, external carrier websites, and marketplaces.
Digitizing your supply chain and integrating into a single TMS platform allows you to:
Better manage inventory through real-time data on inbounds


Have complete information on orders

Know what has been scheduled, what is pending, what has delivered, what needs follow up - all on a single platform without logging in and out of multiple carrier websites

Better track returns and improve customer relations


Readily analyze shipping data across carriers and shipping channels

Enables more informed carrier contract negotiations

Better manage staff

A TMS platform simplifies the shipping process for workers - automates shipping paperwork generation (BOLs, packing slips, etc.) and NMFC coding
With some TMS applications, you can see volumes processed per shipper/employee to help gauge team efforts
In our resource Tracking & Reporting on Shipments, we delve into the benefits of digitizing and integrating all aspects of your supply chain, from inbounds, to carriers, and to customers. The benefits are numerous and overall helps you grow your business.
Manual processes do not allow for proper benchmarking and analysis. The right TMS shipping software does.
A Guide to Digitizing Logistical Supply Chains
Carrier Rate Shopping
In our guide to Carrier Rate Shopping, we show how automating this process helps businesses who ship:
Find carrier rates they never knew existed
Improve internal workflows
More efficiently pool shipments and take advantage of FTL vs. LTL rates
Quickly secure spot quotes
Freight and parcel rates are highly volatile. Automating as much of the process as you can to combine shipments, take advantage of last-minute rates, and overall manage the process can revolutionize your shipping, from shipping spend to process.
Our TMS provides users with Expedia-like shopping capabilities, presenting a host of real-time carrier rates without the need to log into a single carrier website.
ACCESS RFP DOWNLOAD - Free RFP Template To Send To Carriers!
Labor Savings
Manual processes cost A LOT of money. If you do not have a TMS, your manual processes include:
Shopping around for the best carriers rates, each and every shipment. This includes logging into multiple carrier websites and limits how many carrier quotes you obtain due to how long the process takes.
Logging into multiple sites to track shipments and manage customer queries.
Manually auditing shipping quotes to carrier invoices, which the majority of shippers do not even do due to the arduous nature of this task.

If there was an economical way for your team to shop carriers rates, track shipments, and audit invoices that included:
1) Automation
2) A plethora of carrier rate options each shipment
3) A Partner Rate Program
- What could possibly stop you from signing up?
We sell a robust TMS platform and have found that our customers, on average, can reallocate personnel up to 20-30% by using our system. For businesses that have had to cull numbers recently due to COVID, you can pick up that slack with our TMS.
For businesses who wish to streamline their shipping, that 20-30% represents a savings of 200 man-hours a week. At $12 an hour, that is a savings of just over $10,000 a month, or $124,800 a year!. You can read more about this in our post 5 Shipping Software Tips - Do You Have a Good TMS?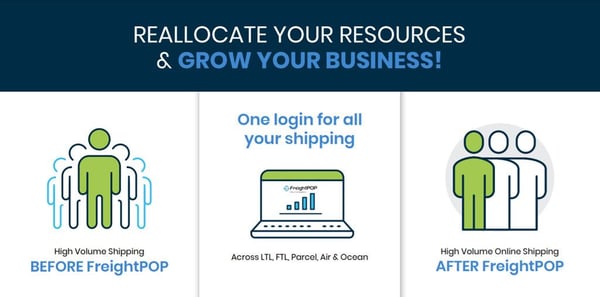 No matter your business situation right now amidst COVID and looking past lockdown to the months ahead, if you are still relying on manual shipping processes, it is time to implement and embrace automated practices.
Reach out for a demo today to see how we can help you make this change easily and at a cost you can afford.